Early Bird
Meet the new dean of the College of Letters, Arts and Sciences
John Masserini, DMA, plans to 'hit the ground learning.'
April 21, 2021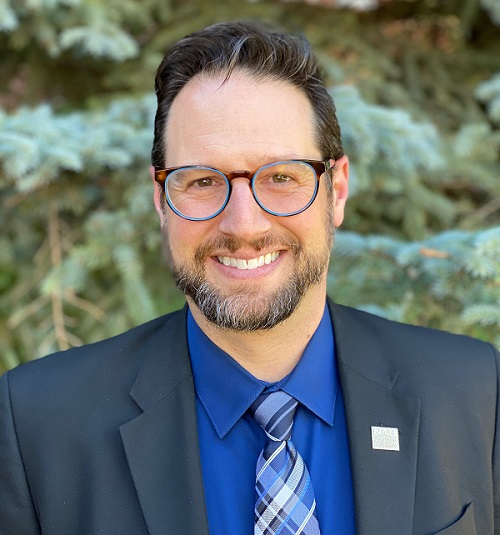 John Masserini, DMA, has been named Metropolitan State University of Denver's new dean of the College of Letters, Arts and Sciences.
Masserini, who is currently serving as the interim dean for the College of Social and Behavioral Sciences at Northern Arizona University, will begin the post July 1.
He said the job and MSU Denver appealed to him because they mirror his passion and dedication in supporting anyone who wants an education.
"I've been fortunate to serve institutions with strong values and a student-centered mindset," he said. "MSU Denver clearly demonstrates and prioritizes these same values by providing broad access to higher education coupled with meaningful, holistic support."
Masserini added that during the interview process he found "everyone to be wonderfully supportive and focused on student success."
"There is a collegial spirit and sense of teamwork among the campus community that is very exciting," he said. "MSU (Denver) is a place where I see multiple opportunities to collaborate on projects, start and lead new initiatives and establish a great network of colleagues."
Masserini's previous positions at NAU include vice provost for Academic Affairs (2018-20), associate dean of the Graduate College (2014-18) and associate director of the School of Music (2011-14).
He holds Doctor of Musical Arts and Master of Music degrees in Music Performance (clarinet) from Michigan State University and a bachelor's degree in Music Performance from the University of New Mexico. He served as assistant and associate professor of Music at Idaho State University from 2001 to 2008.
"I assess, based on Dr. Masserini's experience and energy, that he will light our path toward exponential growth, helping MSU Denver to become a university of greater consequence," said Alfred Tatum, Ph.D., provost. "We were fortunate to recruit this high-integrity leader with a commitment to advocating for our students, faculty, staff and programs."
Masserini said as dean of CLAS at MSU Denver, "it will be important to foster an environment where students can learn and apply a deep disciplinary knowledge across the curriculum."
"What we learn in a physics class may be applied to insights in a philosophy class," he said. "Issues explored in Africana or Chicana/o Studies may explain societal structures revealed in political science; contemporary issues in earth and atmospheric studies might be better understood by different audiences when expressed through visual art, theatre or dance.

"The humanities, letters and arts help us build our capacity to broadly understand humanity in ways that are different from other, more quantitative disciplines. They provide additional modes of expression to share unique perspectives, fostering new ways to explore how we think, how we commune, how we comment on current events and issues of social justice – basically, looking at the world around us through a different lens."
More specifically, he said, he sees his role as applying CLAS' goals to MSU Denver's 2030 Strategic Plan. "There's a wealth of opportunities in the plan," he said, "and this is where the really exciting work begins – having conversations with faculty, students and staff across the college to find out where they see themselves in these goals and move forward with initiatives that will support the exceptional trajectory and future of MSU Denver."
When asked what his first order of business will be in July, he said, "I recently heard a new academic leader use the phrase 'I am going to hit the ground learning.' I think that's a great approach. I'm going to be meeting with as many groups and individuals as I can to get a sense of where we are, what we want to do and how I can best serve the institution."
Topics: Academics, College of Letters, Arts and Sciences, Hiring, Inclusive leadership
Edit this page