Early Bird
Support the MSU Denver Music program and a valuable partnership
Beginning Thursday, Roadrunners can purchase used instruments through the Rockley Family Foundation to support music education.
April 19, 2021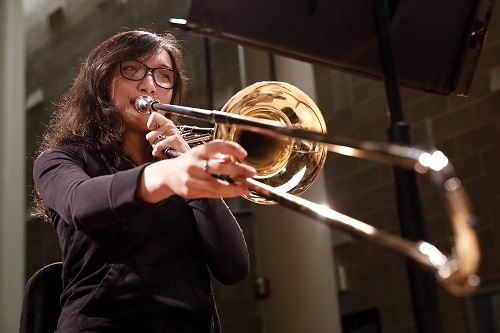 The Department of Music at Metropolitan State University of Denver has enjoyed the use of new first-class pianos on a no-cost basis for the 2020-21 school year, courtesy of a partnership with the Rockley Family Foundation, a not-for-profit organization dedicated to supporting music education.
These instruments and others will now be sold to perpetuate this valuable program and provide scholarship money for the music students.
A large selection of grand pianos, baby grands, digital player grands, vertical (upright) pianos, digital pianos, violins, violas, cellos and basses will be available. This event will feature starter to professional-level instruments from such famous makers as Steinway & Sons, Yamaha, Seiler, Pramberger, Roland, Stravari Fine Violins and many others. Most instruments are less than one year old, include a new factory warranty and are tuned and ready to go. Delivery and special no-interest financing are available on site.
In most cases, a substantial portion of each purchase will be considered as a charitable contribution to the Rockley Family Foundation and may be tax-deductible.
"In a time where creative solutions are needed to maintain a properly equipped Music program, the continuation of this loan program is vital to MSU Denver's efforts to further education in the arts," said Peter Schimpf, chair, Music. "We invite you to take advantage of this wonderful opportunity."
Roadrunners and community members are invited to attend a special private sale Thursday, Friday and Saturday by appointment only. To secure a private appointment, call 303-921-5829. This event will be held off-campus at the Rockley Music Warehouse at 8555 W. Colfax Ave., in Lakewood. Cleaning and social-distancing protocols will be implemented to provide a safe environment for this sale. For directions and protocol details, including virtual-appointment options, please call or visit www.RockleyFamilyFoundation.org/Metro.
Topics: Community, Events, Funding, Music
Edit this page