Early Bird
In memoriam
MSU Denver honors the life of Thomas McInerney, Ph.D., professor emeritus of History.
April 15, 2021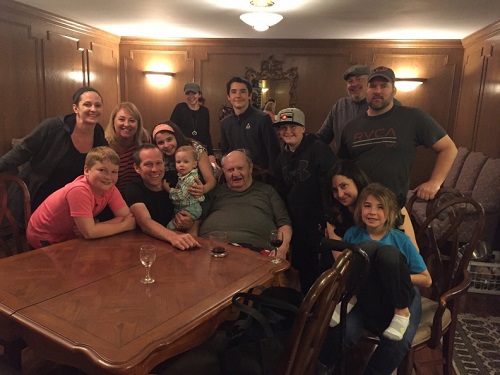 Thomas McInerney, Ph.D., professor emeritus of History, died last Aug. 26 at age 80.
After earning a B.A. at Duquesne University and an M.A. at Colombia University (where he met his wife), McInerney moved to Denver in 1969 to pursue a Ph.D. at the University of Denver. In 1982, Dr. Mac – as his students called him – joined the Metropolitan State University of Denver Department of History, where he worked until retiring in 2019, stopping only when his health made it difficult for him to continue teaching.
The Brooklyn Dodgers baseball aficionado and passionate presidential-history scholar was known for teaching through stories – not only in the classroom but with his children and grandchildren, strangers and hospital nurses, telling them, "I am an educator, not just for my job but in everything that I do." McInerney believed the best way to understand history was to relate to it and was always willing to share his knowledge with anyone who wanted to listen.
"Dr. McInerney used his rich experiences to enliven his lectures, and many students describe him as one of the best storytellers they ever met," said Matt Makley, Ph.D., professor of History. "It was not unusual to walk by a classroom where Tom was teaching and see students gathered close, enthralled with the lectures of a brilliant historian.

"His quick wit, love for a good pint of Irish stout and jovial nature will be greatly missed."
McInerney taught or studied at universities on three continents, traveled to over 65 countries and all 50 states and found himself near the center of U.S. politics during a pivotal time in history. In the 1960s, he served as the advance man for Sen. Robert F. Kennedy, traveling with him throughout New York City and state. McInerney marched with Kennedy on St. Patrick's Day 1968 after the senator announced his presidential candidacy and attended his funeral at St. Patrick's Cathedral less than three months later.
A recipient of several honors throughout his lifetime, McInerney was most proud to have been named a Fulbright scholar. During his 1990-91 fellowship in Hungary, he held the distinction of being the first U.S. professor to teach at what was then known as Karl Marx University (now the Corvinus University of Budapest), in addition to teaching English at a middle school.
"Dr. McInerney's Fulbright fellowship in Hungary benefited our students and brought credit to MSU Denver," said Steve Leonard, Ph.D., professor of History. "He was a kind and gentle person of considerable intelligence."
McInerney held tremendous affection for his Roadrunner family, the words on his University bio page saying it best: "Believer in faith, family and the American Way. Respect varieties of political thought and the rights of expression. Love all children and some animals. Students are high on my list. STUDENT FRIENDLY and AVAILABLE."
His family says McInerney would want his colleagues to know how much he loved them, what an important role they played in his life and how grateful he was for their conversation, knowledge and friendship over the decades. And while he would never have said an academic's life was easy, he would have assured anyone listening that it was worth it.
Topics: Academics, Community
Edit this page