Early Bird
Faculty Senate update
Proposed changes to Faculty Employment Handbook, possible new home for C2 Hub, curriculum-manual update for independent study.
April 15, 2021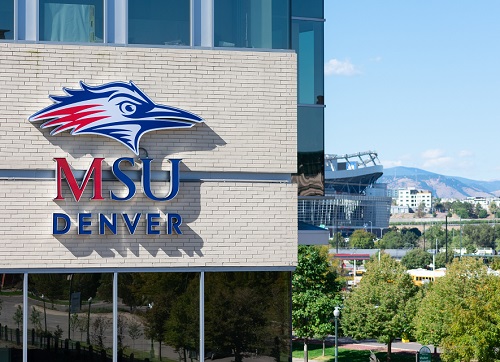 The April 7 meeting of Metropolitan State University of Denver's Faculty Senate covered proposed changes and updates to several processes and procedures.
Bill Henry, Ph.D., vice provost for Faculty Affairs, provided a first read of proposed additions and revisions to the Faculty Employment Handbook. Changes include flexibility for evaluation criteria during extreme circumstances (e.g., a global pandemic); timeline specification for the retention-, tenure- and post-tenure-review appeal processes; clarifying procedure of approving tenure for academic administrators; and several technical issues involving presidential decision-making delegation to the provost, merit pay (not offered by MSU Denver) and the removal of the Ombuds Office.
Floor discussion on this last element led to Sen. Craig Svonkin, Ph.D. (English), proposing the removal of the Ombuds Office and absorbing of the role within Human Resources as amounting to a substantive change, and saying it should be voted upon by the Senate.
HR's Amanda Berry provided insight into the proposed update to policy language around parental leave; this was followed by discussion on the six-week parental-leave policy with Berry noting that the 12-week bank of medical leave can be accessed in addition to the current amount provided.
Richard Russell, Ph.D. (Accounting), provided a second read of the proposed catalog change to extended majors; changes include language specifying 60 hours of major-based course requirements regardless of departmental prefixes and not prohibiting a student from adding a minor. The subsequent vote passed with 69 yes, two no and three abstentions.
Russell also led a first read of an Academic Policy Committee's Emergency Procedures bylaw amendment, detailing criteria for meetings during summer or winter breaks that seek (without codifying requirements of) faculty input. The measure would also delegate authority to the APC chair to vote on behalf of the committee.
Summer Trentin, Ph.D. (Art), provided an update on the Undergraduate Curriculum Manual and Graduate Curriculum Manual, covering proposals to help make the Independent Study process more efficient and streamlined by removing Curriculog steps and clarifying both credit limitations and the number of students allowed to register for a section.
Other business included:
Vice President of Student Affairs Will Simpkins outlined a proposal to move the Classroom to Career Hub into the Tivoli Student Union. The move would create a central location for student and employer partnership opportunities and center industry-based efforts toward diversity, equity and inclusion. Floor discussion included questions on funding, which Simpkins detailed could include allocation from the State Capital Development Committee and interested donors to support the $17 million proposed price tag.
Faculty Senate President Katia Campbell, Ph.D., announced that the BIPOC Safer Spaces Resolution will be presented at the next meeting Wednesday and that Faculty Senate leadership hopes to make a determination on fall meeting format (online, in person or hybrid) within the next few weeks.
Brandy Swanson, advising coordinator for Training and Development; and Stephanie Allen, director of Advising Systems, asked attendees to complete the Faculty Advising Needs Assessment by April 23. Feedback will inform advising and support resources and will be shared with faculty members this fall.
Kelly Evans, Ph.D. (Human Performance and Sport) proposed that the Rules Committee conduct an annual review to incorporate faculty feedback for constitution and bylaws.
Topics: Faculty Senate
Edit this page