Early Bird
MSU Denver faculty in the media
Members share their expertise with the community.
April 14, 2021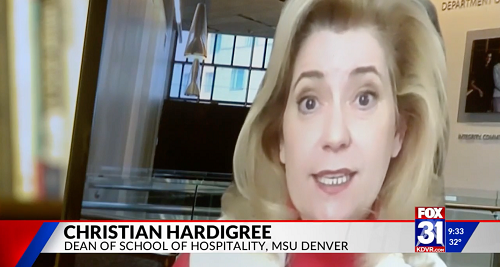 The Metropolitan State University of Denver faculty brain trust reaches almost every spot along the academic spectrum, and we are always proud to see Roadrunners sharing their knowledge. Each month, the Early Bird highlights a few faculty members who have served as subject-matter experts on timely news topics, providing dynamic perspectives on critical issues.
Here's a sampling from March:
Cynthia Dormer, Ph.D., professor of Nutrition, interviewed with 710KNUS on March 4 to discuss tips and trends about how society has managed diet, weight loss and body perceptions. (Segment 9:24-24:57)
Craig Svonkin, professor of English and amusement-park expert, interviewed with Hospitality Technology on March 16 about technology trends within Disney Parks and their MagicMobile service.
Alex Fayman, assistant professor of Finance, interviewed with 850KOA on March 18 about the stimulus checks being distributed from the $1.9 trillion Covid-relief package.
Andrea Borrego, assistant professor of Criminal Justice and Criminology, interviewed with Colorado Newsline on March 29 about the jail population plummeting due to pandemic changes.
Christian Hardigree, dean of the School of Hospitality, interviewed with Denver7 and Fox31 the week of March 29 about how some industries are considering a vaccine passport to gain access to venues and services.
For a full list of faculty members featured as experts in the media, visit MSU Denver in the News.
Topics: Academics, Excellence, Experts in the Media
Edit this page