Early Bird
Congrats to our Roadrunner Shoutout of the Week winners
These exceptional faculty, staff and student employees are shining examples of dedication, innovation and excellence.
April 1, 2021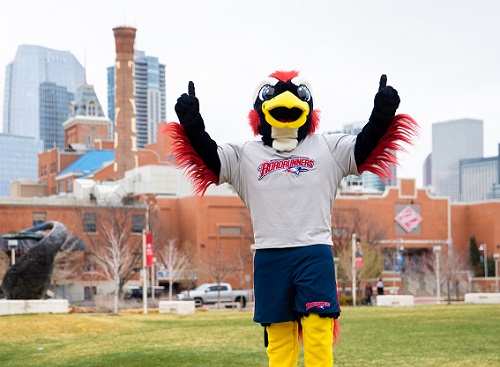 Nominations continue to roll in for Metropolitan State University of Denver's Roadrunner Shoutout of the Week awards, highlighting the excellent and important work happening at all levels of the University. This week, we celebrate three members of our University community who inspire students and their colleagues.
"Each of these nominees embodies our MSU Denver values," said Will Simpkins, Ed.D., vice president for Student Affairs. "They have proven to be community leaders by raising up their fellow colleagues and students in times of need and continually striving for excellence."
Faculty winner – Jason Burke, affiliate faculty, Mathematics and Statistics
Nominated by Crystal Kelly, student, who wrote:
"Jason Burke deserves recognition for his outstanding teaching abilities during Covid-19. He is compassionate about teaching math and is very patient with students like me who struggle in the concepts of mathematics. Because of him, I was able to succeed in the general quantitative math requirements for my degree in order to take next-level math. Also, I was able to do a reverse credit transfer to Arapahoe Community College to complete the guaranteed math requirements and received my Associates of Arts in Psychology with a certificate in ECE. Jason Burke has profoundly impacted my life, especially during Covid-19. If it weren't for him taking the time to explain math, it would not be possible for me to achieve my goals. Thank you a million times, Professor Burke. I owe so much to you and plan to pay it forward. Thank you, MSU Denver, for making dreams come true!"
Jason, thank you for going above and beyond to support Roadrunners. It's clear that the passion, time and energy you invest into your class is helping students reimagine their possible and their potential.
Staff winner – Marlynn Rocha-Vasquez, director of Internal Operations, Admissions
Nominated by Mark Baccei, Ph.D., research analyst, Enrollment Management, who wrote:
"Marlynn is the true representation of the Roadrunner spirit. She is dedicated to the staff she supervises, intentional in the service she and her team provide to students and overall amazing at her job. As a campus partner, she consistently tries to see the bigger picture and build bridges across silos. Thanks to Marylynn, MSU Denver is a better place to work."
Marlynn, thank you for your inspirational leadership within the MSU Denver community. Your forward thinking and dedication to fellow Roadrunners is deeply appreciated.
Student-employee winner – Zachary Zimmerman, General Chemistry II supplemental instructor, Chemistry and Biochemistry
Nominated by April Hill, Ph.D., professor and program director of Criminalistics, Chemistry and Biochemistry, who wrote:
"Zach has been my supplemental instruction leader for General Chemistry II for two semesters. He learned to use Teams and Canvas right along with the rest of us this fall, but he still managed to keep up with his own coursework while providing supplemental instruction for the students taking Gen Chem II. This course has a reputation for being difficult, but Zach has been such a wonderful resource for the students. He schedules his SI sessions according to the times that work best for the class, and he prepares plenty of practice problems and exercises while also encouraging the students to come with their own questions. He emails the class regularly to encourage them to attend the SI sessions, and he lets me know if there are topics I might want to revisit based on his interactions with the students. The students and I have been very lucky to have Zach this year!"
Zach, thank you for investing your time and talents into supporting your fellow students. Your generosity and commitment to ensuring that all Roadrunners succeed are commendable.
To nominate outstanding employees for the Roadrunner Shoutout of the Week award, please complete the form on the Roadrunner Shoutout of the Week webpage. Tell us how your nominee is making an impact through great teaching, service to students or innovation. Winners will be selected each week and profiled in the Early Bird on Thursdays. Winners will also get a shoutout on social media.
Topics: Award, Excellence, Roadrunner Shoutout
Edit this page