Early Bird
Celebrate Faculty Career Catalysts
Join the inaugural event April 9 to help recognize educators who have made an impact on students' career success.
April 1, 2021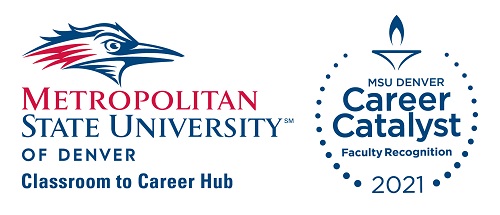 The Classroom to Career Hub's Faculty Career Catalysts award initiative, now in its first year, aims to recognize and create a community of Metropolitan State University of Denver faculty members who are engaged in their students' career success. The C2 Hub team solicited award nominations from students and alumni to identify faculty members who have helped Roadrunners meaningfully explore their internship, graduate-school and/or career goals.
For a first-time effort, the Faculty Career Catalysts initiative has been a hit. The C2 Hub team received 160 nominations recognizing 112 faculty members (21 nominations were for staff members whose work will be celebrated in another setting). In their nominations, students and alumni shared how faculty members had positively impacted their career exploration, preparation and readiness.
The MSU Denver community is invited to help honor these outstanding educators at the Faculty Career Catalyst Celebration. The event will include 15 awards given by school/college and faculty classification, including a special recognition for staff members who are also educators. The celebration will include Provost Alfred Tatum, Ph.D.; Will Simpkins, Ed.D., vice president for Student Affairs; the academic deans; C2 Hub staff; and more than 80 faculty nominees.
Faculty Career Catalyst Celebration
April 9

9:30-10:30 a.m.
Members of the C2 Hub Faculty Engagement unit selected award recipients based on the extent to which the nominations reflected the faculty member's engagement in:
Advising students in discovering and pursuing opportunities to gain career-relevant experience
Supporting students in making informed decisions aligned with their values, goals and interests
Connecting students with formal and informal networks and resources
Displaying responsiveness, availability, concern, respect and depth of knowledge
Providing information on graduate programs and the application process.
Each nominated faculty member will also receive congratulatory gifts, including comments provided by student nominators.
To learn more about the Faculty Career Catalyst initiative and how faculty members can support students' career success, please visit the C2 Hub website.
Topics: Classroom to Career Hub, Events, Excellence, Student Success
Edit this page