Early Bird
MSU Denver faculty in the media
Members share their expertise with the community.
March 9, 2021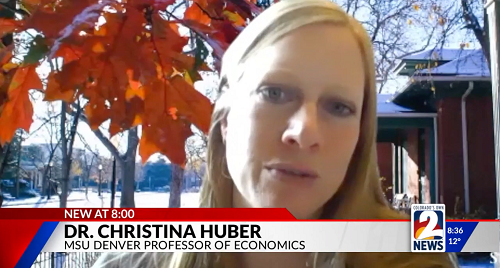 The Metropolitan State University of Denver faculty brain trust reaches almost every place along the academic spectrum, and we are always proud to see Roadrunners sharing their knowledge. Each month, the Early Bird highlights a few faculty members who have served as subject-matter experts on timely news topics, providing dynamic perspectives on critical issues.
Here's a sampling from February:
Darrin Duber-Smith, M.S., senior lecturer of marketing, spoke with 9News on Feb. 8 about the Super Bowl ads we saw this year and why some big companies decided to not advertise during the big game.
Christina Huber, Ph.D., professor of economics, explained the financial impacts of mothers leaving the workforce to take care of their children and the Motherhood Penalty with Fox31 on Feb. 10.
Steve Rissman, N.D., associate professor of health professions and the Men's Health program, and Eneri Rodriguez, associate director of the Gender Institute for Teaching and Advocacy, interviewed with Denver7 on Feb. 15 about changing gender roles related to raising children and parenting.
Kevin Kulhmann, M.S., professor and associate chair of Aviation and Aerospace Science, interviewed with CBS4 on Feb. 21 about United Airlines Flight 328, a passenger flight from Denver to Honolulu that suffered engine failure shortly after takeoff and dropped debris in Broomfield.
Devon Wright, Ph.D., assistant professor of Africana Studies and Sociology, interviewed with LaVoz Colorado on Feb. 24 about the significance of celebrating Black History Month and the important achievements often overshadowed in Black history.
For a full list of faculty members featured as experts in the media, visit MSU Denver in the News.
Topics: Academics, Community, Excellence, Experts in the Media
Edit this page