Early Bird
Kudos
Celebrate the achievements of MSU Denver Roadrunners and rich campus resources.
March 22, 2021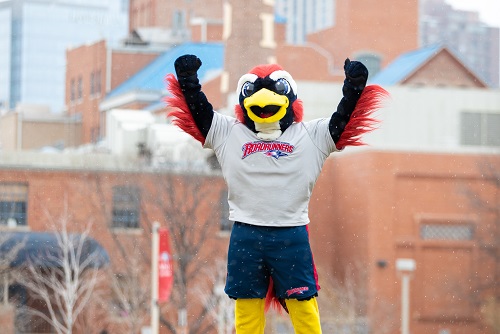 In addition to Faculty Citings, the Early Bird shines a spotlight each month on the accomplishments of Metropolitan State University of Denver faculty staff and university partners.
As our campus community continues to navigate teaching, learning and operating online to reduce the spread of COVID-19, it's great to be reminded of the true impact of MSU Denver students, faculty and staff.
If we missed an award, accolade or opportunity to celebrate an accomplishment big or small, please email us at earlybirdeditor@msudenver.edu.
Fantastic faculty
The Holocaust Education Foundation of Northwestern University is dedicated to advancing Holocaust education. Each year, the organization internationally distributes teaching grants to professors who dedicate their curriculum and courses to the study of the Holocaust. For 2021, MSU Denver's own Andrea Maestrejuan, Ph.D., associate professor, History, was one the recipients. Congratulations on this prestigious honor and thank you for enriching the education of Roadrunners.
David Heska Wanbli Weiden Ph.D., associate professor, Native American Studies and Political Science, has had a busy year. Last August, Weiden published "Winter Counts" which was nominated by Mystery Writers of America for the Edgar Allen Poe Best First Novel award and won the 2021 Spur Award from the Western Writers of America for Best Contemporary Novel and Best First Novel. Weiden has leveraged speaking requests to serve the Rosebud Sioux Tribe by donating all his public speech fees toward the tribe's Covid-19 Relief Fund, raising thousands of dollars for the cause!
Last year's shift to primarily online education was a significant and successful undertaking. MSU Denver is grateful to all educators who rose to the challenge, including Jackson Lamb, professor and Director of Culinary Management, School of Hospitality. Lamb's innovation in adapting cooking courses to an online format recently earned him a feature in The Center for the Advancement of Foodservice Education (CAFE) Journal of Culinary Education Best Practices. Our compliments to the chef.
Outstanding Staff
Camden Farmer, associate registrar, Transfer Evaluation is a Roadrunner alumnus and has been serving the MSU Denver community for 13 years. This year, he embarks on a new journey with The Colorado Department of Higher Education (CDHE) as a Policy Fellow. While Farmer continues to serve MSU Denver he will also participate in a policy cohort of Colorado graduate students and will complete a short policy recommendation report to apply his new knowledge. A Roadrunner cheer for this ambitious staff member!
Megan Scherzberg, Ph.D., director, Recruitment, has been selected for an Education Advisory Board Rising Higher Education Leaders Fellowship. During the nine-month program, Scherzberg will contribute to a capstone project and will receive training on how to enhance the MSU Denver community by breaking down institutional silos. Thank you for your leadership and commitment to our Roadrunners.
Superstar Students
Roadrunners from all over campus shared their recipes for success in the Colorado Dry Bean Council's recipe competition and the results are in. The competition consisted of five recipe categories with cash prizes for first through third places. The categories included international rice and beans, black beans, garbanzo beans, kidney beans and black-eyed peas. Congratulations to MSU Denver students Belen Vazquez, Sydney Beaty, Kelly LeGros Strickler, Lindsey Long, Phillip Hua-Pham, Kodi Clary, Kelly Domino, Donna Quigley, Jesse Vernaza, Cora Howell and Mari Sosa for their winning recipes. Watch the organization's website for more information and student recipes.
Sensational student resources
The Auraria Library recently received international attention after acquiring a rare Gaston Save collection. French magazine "de l'art nouveau" (Arts nouveaux) wrote about the impressive collection which features the 19th century French painter's original artwork as well as professional and personal correspondence. The collection serves as an amazing resource for students and most of it can currently be accessed online.
Topics: Award, Excellence, Kudos
Edit this page