Early Bird
Faculty Senate update
Here's the latest on the Safer Spaces Resolution process, campus as a vaccine point of distribution and reinstitution of sabbaticals for the 2021-22 academic year.
February 9, 2021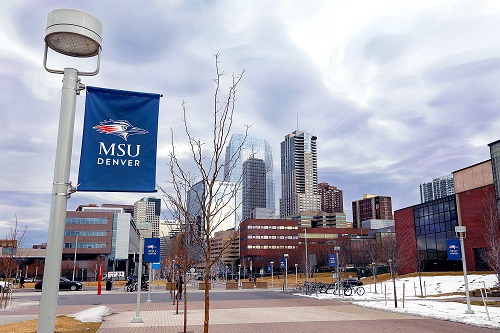 At the Metropolitan State University of Denver Faculty Senate meeting Wednesday, Sen. Kelly Evans, Ph.D. (human performance and sport), provided a procedural update on last week's introduction and discussion of the Safer Spaces Resolution.
As the measure originated external to the Faculty Senate, the typical review/feedback process involves submitting commentary to Senate leadership, which will take the measure back to the resolution authors to accept, edit or deny inclusion. If feedback is integrated, the resolution will come back to the Faculty Senate for a new first read; if no changes are accepted, a second read and subsequent vote will be held at the March 3 meeting.
After brief discussion and a vote, the Senate agreed on a deadline of 5 p.m. Feb. 15 to submit feedback/changes in writing to Faculty Senate President Katia Campbell, Ph.D. (communication studies), and Vice President Liz Goodnick, Ph.D. (philosophy).
Campbell further clarified that the intent of a vote is not necessarily to agree with everything as outlined in the lengthy proposal but rather to open up more discussion.
"To clarify, these are the voices and experience of our students on our campus," she said. "This is difficult, and I ask that we try to give some grace. … We're all on our own paths and might not have the same experience of not feeling safe.

"As Faculty Senate, we have a voice and value in trying to navigate this space and make things amenable to all involved with the overall purpose of moving toward becoming an anti-racist institution, like our Board of Trustees has committed us to."
MSU Denver President Janine Davidson, Ph.D., updated senators on the tri-institutional work behind becoming a point of distribution (POD) for vaccine distribution in the 5th Street Parking Garage, speculating that the best-case scenario would be mid-February but also noting it could take longer. She also sought faculty input on best ways to determine who should be at the front of the line for University community distribution.
"This is about getting us back on campus. … We know what we need to do and are ready to go; we just don't have the vaccine yet," she said.
Davidson also provided a brief update from her address to the state's Joint Budget Committee, where she advocated addressing longstanding inequities in funding, resulting in MSU Denver receiving about 40% less than the state average in per-student funding.
"There are no good excuses except unflattering ones as to why a school with the most students of color receives the least amount of funding," she said, proposing an installment plan to increase the University's base budget by $50 million over five years to reach the average received by other four-year universities in Colorado.
Interim Provost Bill Henry, Ph.D., announced the plan to fully reinstitute sabbaticals for the 2021-22 academic year. Sabbaticals that had been postponed due to the pandemic this current academic year are "back on the table as we move ahead," and the University will begin accepting upcoming new proposals for 2022-23. Those with questions or who want more information should contact Henry.
Campbell noted the gratitude for faculty members expressed during the recent Board of Trustees meeting.
"It's easy to get caught up in all the work around us, but there's a deep appreciation of how we're dealing with the immense amount of change that comes with shifting online, instituting a new learning-management system and our ongoing commitment to diversity, equity and inclusion," she said.
Other items of business included:
Richard Russell, Ph.D. (accounting), provided a first read of the Transfer Credit Rules update. Proposed wording to streamline the transfer process would ensure that entering students who have completed an accredited undergraduate degree would be awarded a block of 90 hours meeting minimum general-studies requirements; those who have earned an associate degree would be guaranteed entry to MSU Denver and meet minimum general-studies requirements.
Summer Trentin, Ph.D. (art), announced the call for this year's Faculty Senate Teaching Excellence Awards. Awardees receive $1,500 and recognition and nominees are eligible if they are teaching the current semester and taught previous semesters. Nominations are due by Feb. 26.
New Chief of Staff Edward Brown Jr. introduced himself to the Faculty Senate. Brown comes to MSU Denver from the University of Wisconsin-Madison, where he served as chief of staff to the chief diversity officer; before that, he served as chief of staff at Tuskegee University.
"I believe in the mission and vision of MSU Denver and the role of shared governance; I'm here as an ally and a vehicle of communication," he said.
Campbell announced that she, Goodnick and Bill Carnes, Ph.D. (management), have decided to run for Faculty Senate president, vice president and secretary, respectively, again for the 2021-22 academic year; others interested in these executive-committee positions are also encouraged to run, she noted.
The Digital Measures advisory board meets the first Tuesday of every month and needs a representative; the Institutional Resources Committee also has an open seat, and the Rules Committee has two open seats. Those interested in any of these positions should contact Maggie Thulson.
Topics: CADRE, Faculty Senate, Inclusive leadership
Edit this page