Early Bird
Roadrunner recipes for success on MSU Denver Day of Giving
There are many ways to Join the Race and get involved during the 24-hour fundraising campaign.
February 9, 2021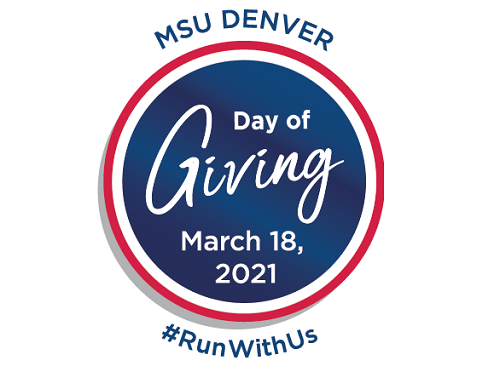 The fifth annual Metropolitan State University of Denver Day of Giving on March 18 is a way for alumni, faculty, staff, students and community members to provide our students with the ingredients they need to cook up a Roadrunner recipe for success. Last year, more than 700 Day of Giving donors raised over $155,000 to support students and programs at MSU Denver. Imagine the possibilities when we include an essential ingredient – you!
Project submissions
To be considered for promotion during MSU Denver Day of Giving, campus organizations must submit a project proposal including a brief description, a fundraising goal under $2,500 and an explanation of how the funds will be used. Crowdfunding projects must support a campus organization, fund, department or program. You can find examples of successful past projects on last year's Day of Giving crowdfunding page.
Submissions will be accepted through Feb. 21.
Recipe submissions
University Advancement communications is collecting recipes for an upcoming Roadrunner cookbook. Donors who support any fund on Day of Giving will receive an electronic version of the cookbook. Submit your recipe today!
Ways to get involved on Day of Giving
Make a gift on Day of Giving.
Sign up to be a Day of Giving advocate and spread the word on social media.
Contribute to the Philanthropy Fund at any time, and your gift will be used to set up match and challenge gifts for Day of Giving featured projects.
Faculty/staff only: Increase or start a new payroll deduction between March 1-18, and your annual payroll-deduction total will count toward our Day of Giving totals.
Together, we can ensure that our students are able to reimagine a future where anything is possible.
Making a difference in one day. That's possible here.
For more information, contact Bre Milnes, senior director of Advancement communications and giving.
Topics: Advancement
Edit this page