Early Bird
UPDATED: In memoriam
MSU Denver remembers Laurence Washington, affiliate faculty member in the Department of Journalism and Media Production.
February 8, 2021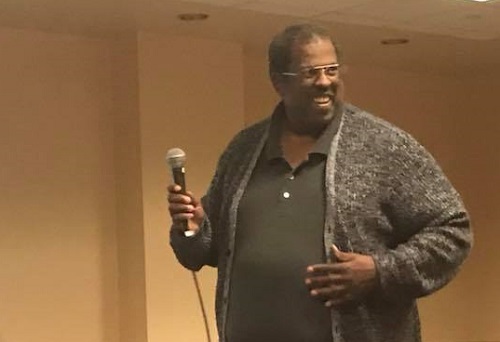 Laurence Washington, who recently retired from Metropolitan State University of Denver after 26 years, has died. A service for Washington will be held at Olinger Hampden Mortuary, located at 8600 E. Hampden Ave. in Denver, at 11 a.m. on Feb. 27.
Washington was an award-winning journalist who taught as an affiliate from 1995 to this past December. He also worked as a staff reporter on Stitches Magazine and for several of Colorado's leading daily newspapers including the Rocky Mountain News, the Boulder Daily Camera, the Fort Collins Coloradoan and the Aurora Sentinel. He served as managing editor of Urban Spectrum and as a book reviewer for the Rocky Mountain News and Blueinkreview.com. His writing also appeared in the Denver Post and the Denver Business Journal, and he self-published several books as well as Blackflix.com, a publication celebrating Black films.
Washington was also an MSU Denver alumnus, graduating with a bachelor's degree in English in 1989 before completing his master's degree in communication at Regis University in 2007. For a time, he also served as assistant editor of MSU Denver's alumni magazine.
As an educator, Washington challenged his students to push the envelope of their existing boundaries and discover a new frontier of empowerment and learning.

"Teaching is a privilege – there is no higher calling that enables an individual to inspire, spark interest and stimulate the imagination of others," he wrote in his MSU Denver educator bio. "Ideally my students feel personally changed by their experiences and participation in my courses."
"Laurence had been an important part of our Journalism Affiliate Faculty for 26 years while also advising students working at Student Media," said Chris Jennings, Ed.D., chair of the Journalism and Media Production Department, in a post on the department's webpage. "He guided and mentored many students towards incredible careers in journalism and was an amazing colleague to work with."
"It's heartbreaking news," added Shaun Schafer, Ph.D., former department chair and now the University's associate vice president of Curriculum and Policy Development. "He was a good and genial soul. It's hard to believe he is gone."
When confirmed, information about memorial observances will be available via the JMP Department's communication channels.
Topics: Academics, Affiliate faculty, Community
Edit this page