Early Bird
Campus safety resources and reminders
As more Roadrunners return to the Auraria Campus, here are some tips for staying safe.
February 17, 2021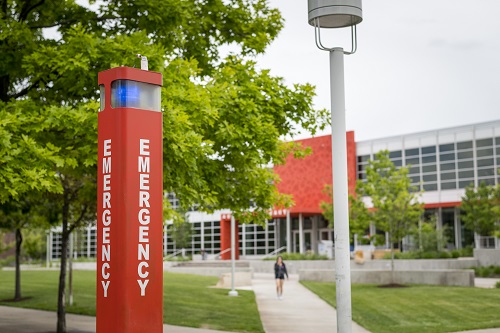 Metropolitan State University of Denver and tri-institutional partners are working diligently to ensure that more students, faculty and staff can safely return to the Auraria Campus. As the campus slowly comes back to life, it is important not only to adhere to Covid-19 health protocols but also to be aware of general safety resources.
As a reminder, the Auraria Campus Police Department operates 24 hours a day, seven days a week, 365 days a year to ensure that the Auraria Campus community is safe. Students, faculty and staff are encouraged to contact the ACPD at any time with safety concerns.
Safety tips
Secure your belongings: Lock your car doors and put valuables in your car out of sight or in the trunk. Secure your valuables (car keys, wallet, purse, etc.) out of sight within your workspace.
Display your campus ID: Always have your campus ID visible while on campus and encourage others to do the same.
Use the NightRider Service: Call 303-556-2001 to use the evening shuttle service to and from campus buildings and parking lots or call the ACPD for a ride at 303-556-5000.
Trust your instincts: If a situation seems dangerous or something feels out of place, please call the ACPD from any campus phone by dialing 911 or from a cellphone by dialing 303-556-5000. You may also "Text-a-Tip" to the ACPD at 720-593-TIPS (8477).
Be aware of your surroundings: If you see a person in distress, seek immediate help from the ACPD.
Program your phone: Store the ACPD phone number and Text-a-Tip line in your favorites on your cellphone to have the numbers at your fingertips in the event of an emergency. Dispatch: 303-556-5000; Text-a-Tip: 720-593-TIPS (8477).
How to contact the ACPD
Call: 303-556-5000
• Text-a-Tip: 720-593-TIPS (8477)
• Visit in person: 1201 5th St., Administration Building, Suite 110
• Call with an anonymous tip: 303-556-2677
• Use blue-light emergency telephones: These towers are in all parking lots and on campus walkways. Use these telephones to be immediately connected with the ACPD.
Please contact Cmdr. Jason Mollendor at 303-556-5000 or Acting Cmdr. Justin Verardi at 303-556-2294 with questions or to learn more about virtual or in-person trainings and safety presentations.
Topics: AHEC, Safety
Edit this page