Early Bird
The Writing Center's tools for success
Check out virtual and in-person resources available this spring.
February 16, 2021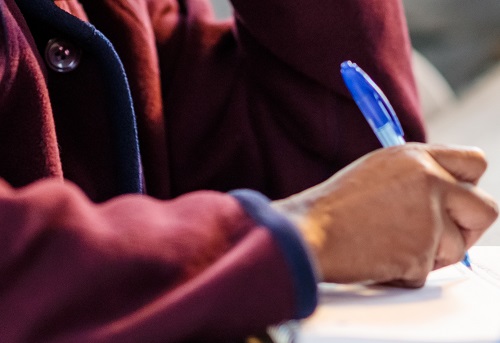 From revising papers to syllabus planning, the Writing Center is available to help Roadrunners stay on top of their game. Students and faculty members don't have to be struggling to benefit from the center's resources. As assignments begin to accumulate, check out what Metropolitan State University of Denver's Writing Center has to offer students and employees.
Writing tutoring
Yes, tutors are great for helping with sentence-level or grammatical concerns, but their support doesn't stop there. Scheduling time with a writing tutor is a great way to help organize your thoughts and break down big assignments into manageable tasks. (This includes syllabus planning for educators.)
Book a phone or online appointment today.
Reserve an in-person tutoring session hosted in the Jordan Student Success Building during the following times:
Mondays 10 a.m.-2 p.m.
Wednesdays 10 a.m.-5 p.m.
Thursdays 11 a.m.-5 p.m.
Doc Drop Consulting
A busy schedule shouldn't prevent students from receiving support. The Writing Center's Doc Drop Consulting program allows Roadrunners to get draft feedback without squeezing another meeting into the week. Simply upload a draft for review and receive written feedback from a consultant within four business days.
Roadrunners Interested in Developing English Skills (RIDES) program
The RIDES program provides linguistically diverse students with coaching for foundational English skills such as article use, punctuation and grammar. RIDES consultants help with class assignments and provide customized exercises to improve written English fluency.
Book clubs
All Roadrunners are invited to join the Writing Center's first virtual anti-racist book-club meeting. This month, the club will focus on Ibram X. Kendi's "How to Be an Antiracist." Discussion will be hosted over Zoom on Feb. 25 from 6:30-8:30 p.m. using the meeting pass code 339765.
The Writing Center is actively looking for writing consultants and is especially interested in expanding its bilingual support. Please contact Elizabeth Kleinfeld, Ph.D., director, Writing Center, at ekleinfe@msudenver.edu for more information.
Topics: Academics, Excellence, Student Success
Edit this page