Early Bird
Safe Return to Campus highlights
COO Larry Sampler shares important updates on vaccine distribution.
February 15, 2021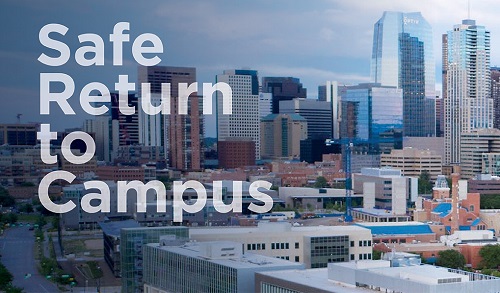 Last week, Larry Sampler, chief operating officer and vice president for Administration and Facilities Management, shared the following updates:
Point-of-distribution update
The Roadrunners Safe Return Steering Committee met with the Faculty and Staff Senates, Councils of Deans and Chairs and Student Government Assembly to discuss three questions regarding the Auraria Campus' vaccine rollout:
If and when it comes time for the Covid-19 vaccine point of distribution (POD) at the Auraria Higher Education Center to establish guidelines for "essential front-line workers" (which is ill-defined at the moment), how should we proceed? Who should be included? What should be the priorities among that group?
Given that there will likely be leftover vaccines at the end of each day, how should we decide to whom they should be given?
What other questions or issues have we not thought of that you think are important (e.g., "Should we require the vaccine on campus" once it/they are approved beyond the Emergency Use Authorization?)?
See more information on vaccine availability, next steps, phases and FAQs.
Face coverings
Roadrunners must continue to wear a mask at all times on campus when in the presence of others.
Bandannas and buffs are not acceptable face coverings.
Face shields may be added with a mask but cannot be used alone unless medically approved by the Health Center at Auraria.
While teaching, faculty members may wear face shields if they can maintain a minimum distance of 12 feet from students during class. Once lecturing has concluded, the faculty member needs to wear a mask.
Denver moves to Level Yellow
Denver County has moved its Covid-19 dial to Level Yellow, reducing certain restrictions on indoor dining, office capacity, group sports and more. The University Events team has modified the events protocol accordingly.
Plan for fall semester
MSU Denver aims to offer 1,500 face-to-face classes for the fall semester and will have a definite number available in April after courses are submitted.
For questions about MSU Denver's Safe Return to Campus, please reach out through this form or via email at roadrunnersafereturn@msudenver.edu.
Topics: Administration, Health, Safety
Edit this page