Early Bird
MSU Denver approved for third round of HEERF funding
Faculty, staff members encouraged to help students access more than $23 million in direct student support.
December 9, 2021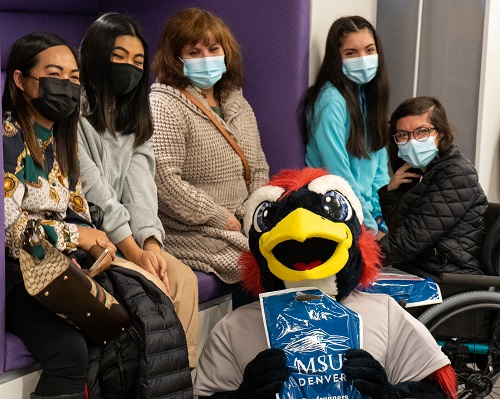 Metropolitan State University of Denver will receive a third round of Higher Education Emergency Relief Fund funding, with $23.6 million designated to go directly to students. The HEERF III funds are available to most students enrolled this semester, including undergraduate, graduate, international/undocumented and non-degree-seeking students who are taking at least one credit hour.
"This funding presents a great opportunity to serve our students and to help them remain on track to meet their academic goals," said Will Simpkins, Ed.D., vice president for Student Affairs. "I encourage all staff and faculty members to get the word out and to help Roadrunners access these much-needed funds."
Simpkins added that this latest iteration of HEERF resources is "more inclusive and reflective of the various needs of our student population."
The awarding structure features three strategies that allow MSU Denver to address students' immediate needs by providing targeted support for those experiencing financial hardship. Students are eligible to receive assistance from one or all three strategies, not to exceed a total of $5,000.
Strategy 1 – Impact Grants: Allows for $19,785,000 to be awarded in grants ranging from $500 to $2,000 per student based on need. The grants will be delivered directly to students through direct deposit or check. These funds are designed to help students with immediate education-related needs. They may use these funds to pay balances owed to MSU Denver once the funds are received.
Strategy 2 – University Student Support Program Grants: Allows for $3,552,500 to be delivered through various MSU Denver programs that have been approved to directly support students. Departments with support-grant funds will notify students directly about availability and how to access the funding.
Strategy 3 – Student Emergency Funding: Allows for $307,115 to be used for emergency grants for students who have immediate needs. Students should contact the Student Care Center to apply for emergency funds.
The HEERF III awarding strategies are similar to those that were used to successfully administer the first two rounds of HEERF funds, and the awarding structure allows the University to reach all eligible students. The funding must be used in a timely manner, and the MSU Denver Office of Financial Aid and Scholarships will manage the awarding, compliance and reporting.
The HEERF funds are part of the American Rescue Plan Act of 2021, which is a $1.9 trillion economic-stimulus bill signed into law by President Joe Biden last March to speed up the country's recovery from the economic and health effects of the Covid-19 pandemic.
Please ask your students to:
Watch for an email with more details about their HEERF III Impact Grant award this week.
Register now for spring classes.
Be aware that funds may be used to help with immediate education-related needs, including paying balances owed to MSU Denver once funds are received.
Ensure that their direct-deposit and address information is current and accurate via the Student Hub.
Please note that grants will be split evenly between fall and spring semesters. Students must be enrolled for spring to receive the second half of grant funding.
Specific questions can be directed to the Office of Financial Aid and Scholarships at finaid@msudenver.edu or 303-556-8593.
Topics: Funding, Student Success
Edit this page