Early Bird
Free RTD EcoPasses will continue for faculty, staff in 2022
Employees who already have an the pass do not need to take further action.
December 8, 2021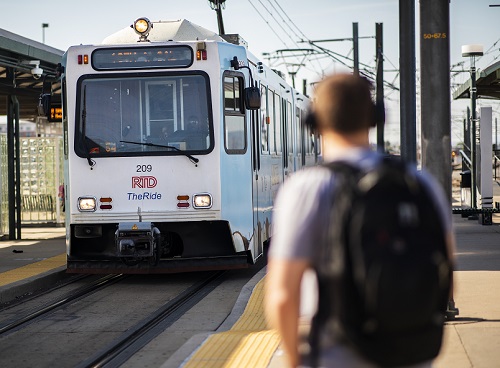 In honor of the hard work and dedication of Metropolitan State University of Denver's approximately 3,000 professional employees, the University will continue to make Regional Transportation District EcoPasses free to faculty members and professional and classified staff members for 2022.
"I am proud that we can again offer this transportation option at no cost to our professional employees," said President Janine Davidson. "Such added employee benefits are part of our continued commitment to and recognition of our people."
For faculty and staff members and classified employees who already have an EcoPass, no action is required, and you can continue to use your current pass for free bus, light-rail and commuter-rail service throughout 2022.
If you need an EcoPass card, please visit the Auraria Higher Education Center Parking and Transportation Services Office (777 Lawrence Way, in the 7th Street Garage). Employees can obtain new cards on a first-come, first-served basis Monday through Friday from 9 a.m. to 3 p.m. For more details, see https://www.ahec.edu/services-departments/id-station/rtd-ecopass-for-faculty-and-staff.
The University has covered the cost of RTD EcoPasses as an additional benefit for professional employees since July. Please note that student employees are not eligible for the employee EcoPass; however, all students can purchase a semester-long pass for a significantly reduced rate of $135. Students will receive details about the student College Pass opt-in process for the spring semester soon in their MSU Denver email.
Topics: Benefits
Edit this page