Early Bird
A holiday roundup
Early Bird hiatus, a discounted staycation, winter warmth and a seasonal video.
December 15, 2021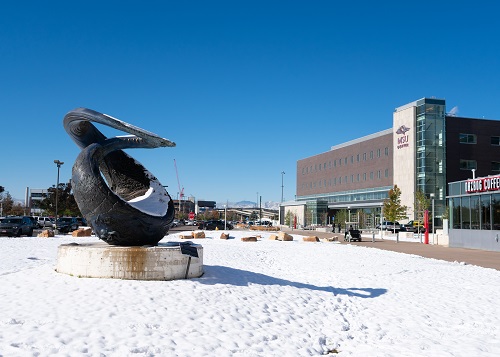 As Metropolitan State University of Denver approaches winter break, it's time for the Early Bird to take its annual holiday hiatus. The Early Bird will run its final edition of 2021 on Dec. 23 and will return to inboxes on Jan. 10.
If you have a story idea or an urgent employee-facing communication request, please contact earlybirdeditor@msudenver.edu as soon as possible for consultation.
Other holiday announcements and opportunities:
Tune in to see President Janine Davidson, Ph.D., and Rowdy the Roadrunner share their gratitude and celebrate another successful year at MSU Denver.
MSU Denver faculty and staff members can take advantage of a special winter rate at the SpringHill Suites Denver Downtown. Rates start at $99 with the code 10290, and Roadrunners must present a valid MSU Denver ID upon check-in.
Stay cozy on campus
The Auraria Campus Police Department is staffing the Auraria Library Café over winter break and welcomes Auraria Campus students and employees who need a warm, safe place to spend time on campus. Complimentary snacks will be available on a first-come, first-served basis while supplies last. Please note that patrons must show their current Auraria Campus ID or a class schedule to access the building and that the main library and café will be closed.
Dec. 24 through Jan. 2.

9 a.m. to 4 p.m.
Give back
There is still time to participate in the ACPD Winter Warmth Donation Drive. The ACPD is collecting clean, gently used donations of warm clothing, winter coats, gloves, socks, blankets, commercially packaged snacks and new hand warmers. Donation boxes are outside the ACPD Station in the Administration Building or at the ACPD substation in the Tivoli Student Union (Tivoli 228).
Topics: Events
Edit this page