Early Bird
University Policy Library reimagined
See the policy website redesign and link updates.
December 15, 2021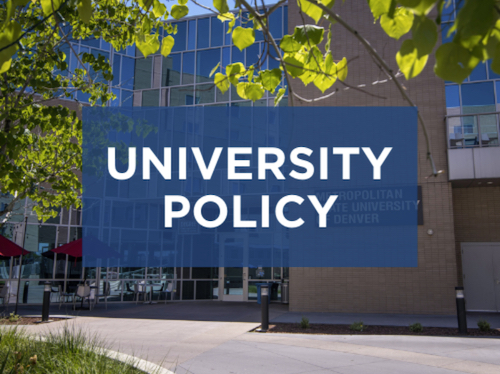 The Metropolitan State University of Denver University Policy Library has moved to WordPress and gotten a makeover in the process. Please make sure to update links to policies and procedures. To find current Universitywide policies, please visit the University Policy Library, msudenver.edu/policy.
Share recommendations on proposed University policies
Roadrunners, share your recommendations on the following University policies by using the Policy Recommendation Form.
Info Security Awareness Training Policy
Survey Management Policy
User Account Management Policy
University policies are developed and reviewed by the University community and approved by the Board of Trustees (for governance policies) and president (for operational policies).
Join the policy conversation
The MSU Denver Policy Advisory Council meets next on Jan. 25 from 2-3 p.m. in Jordan Student Success Building Room 440A and via Microsoft Teams.
Join on your computer or mobile app
Click here to join the meeting.
Or call in (audio only)
+1 720-577-5242, 247218181# United States, Denver
Phone Conference ID: 247 218 181#
All Roadrunners are welcome to serve on the MSU Denver Policy Advisory Council. Please contact Megan Jones, policy administrator, in the Office of the President at policy@msudenver.edu or 303-605-5231 to learn more.
Topics: Policy
Edit this page