Early Bird
Find connection through language
Add a ribbon to your name badge and start a conversation.
December 1, 2021
Metropolitan State University of Denver is promoting and investing in inclusive language to better connect with all Roadrunners and campus-community members.
To this end, the Office of Diversity and Inclusion has sponsored ribbons that attach to name badges and display the language(s) spoken by the wearer.
To pick up a language ribbon for your name badge, visit the Campus Recreation office (Auraria Events Center, Room 108) Monday-Friday from 7 a.m.-7 p.m. All faculty and staff members who request a ribbon must present their official University name badge, as supplies are limited. Faculty and staff members who don't already have a name badge should contact their office administrators.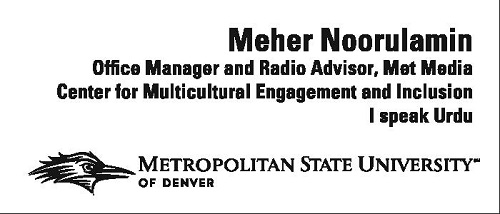 If a specific language is not represented in the following list, it can be printed directly on a name badge, as shown to the right. As a reminder, name badges can also include preferred pronouns.
Language-ribbon options include:
I KNOW ASL (American Sign Language)
أنا أتحدث العربية (Arabic)
我说中文(Mandarin Chinese)
JE PARLE FRANÇAIS (French)
ICH SPRECHE DEUTSCH (German)
मैं हिंदी बोलते हैं or में हिंदी बोलती हूँ! (Hindi)
IO PARLO ITALIANO (Italian)
日本語が話せます(Japanese)
나는 한국어를말한다 (Korean)
EU FALO PORTUGUÊS (Portuguese)
Я ГОВОРЮ ПО-РУССКИ (Russian)
HABLO ESPAÑOL (Spanish)
NAGSASALITA AKO NG TAGALOG (Tagalog)
TÔI NÓI TIẾNG VIỆT (Vietnamese)
Please contact Diane Yee, initiative lead, for more details at dyee1@msudenver.edu.
Topics: Community
Edit this page