Early Bird
MSU Denver faculty members in the media
Roadrunner experts weigh in on social-media addiction, air pollution, Covid-19 misinformation and more.
November 9, 2021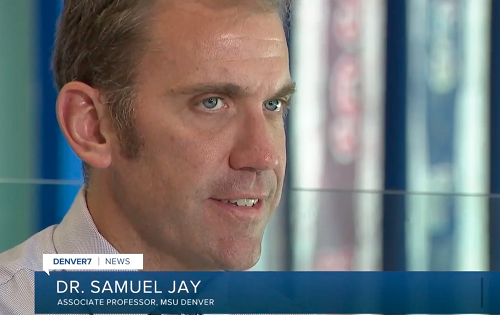 The Metropolitan State University of Denver faculty brain trust reaches almost point along the academic spectrum, and the University is always proud to see Roadrunners sharing their knowledge. Each month, the Early Bird highlights a few faculty members who have served as subject-matter experts on timely news topics, providing dynamic perspectives on critical issues.
Here's a sampling from October:
Sam Jay, Ph.D., associate professor of Communication Studies, interviewed with Denver7 about the outage of Facebook, Instagram and WhatsApp and how social-media addiction can affect the mental health of users.
Chalane Lechuga, Ph.D., associate professor of Chicana/o Studies, interviewed with 9News about research that dispels the idea that Black and Latino students hold themselves back in school out of fear of being accused by their peers of "acting white."
Sally Baalbaki-Yassine, Ph.D., professor of Marketing, interviewed with Scripps National on how misinformation about Covid-19 causes harm as it spreads through social media.
Christian Hardigree, J.D., dean of the School of Hospitality, interviewed with Denver7 on how the City of Wheat Ridge could soon require hotels to apply for a new license regarding extended-stay lodging, citing an increase in the number of public-safety calls.
Keah Schuenemann, Ph.D., professor of Earth and Atmospheric Sciences, interviewed with 9News about a recent report that highlighted areas across the U.S. with elevated air pollution, including Colorado.
For a full list of faculty members featured as experts in the media, visit MSU Denver in the News.
Topics: Experts in the Media
Edit this page