Early Bird
MSU Denver receives national recognition for achievements in student success
The University is recognized by EAB with the prestigious Technology Pioneer Award.
November 4, 2021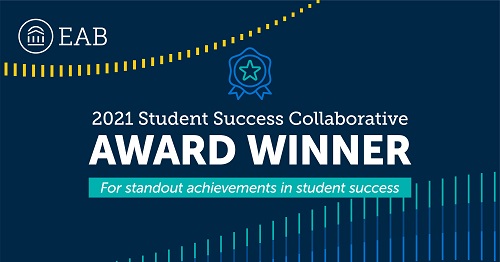 Education company EAB has named Metropolitan State University the winner of its Student Success Collaborative Technology Pioneer Award. The honor recognizes an institution that is consistently on the leading edge of technology in testing new solutions to advance student success.
This is the eighth year that EAB has recognized outstanding achievements in student success. Awardees are chosen from the colleges and universities that use Navigate or Starfish, EAB's student-success-management system and student-success platform, respectively.
"Students, faculty and campus staff are still learning how to access and deliver the right combination of online and in-person support services that are critical to student success," said Scott Schirmeier, EAB president of Technology. "The winners of EAB's 2021 Student Success Collaborative Awards have gone above and beyond in their mission to keep students on track to graduate at a time when the pandemic has completely upended the traditional student-support model."
The awards were presented at Connected21, a three-day gathering, virtual this year, of thousands of student-success leaders from progressive community colleges as well as four-year colleges and universities.
In 2015, MSU Denver became one of the first higher-education institutions to adopt EAB's student-success platform, the Student Success Collaborative.
"Having the technology platform is not enough to say that it will result in student success," said Stephanie Allen, director of Advising Systems at MSU Denver. "It takes commitment, participation and innovation of our faculty, staff and students to find out how the technology can be used to support student-success initiatives, and MSU Denver has been a model example with its high utilization rates."
Allen added that EAB has partnered with MSU Denver on several new products and product enhancements because faculty and staff members and students have been so engaged with the company's technology and are willing to give feedback as to what is working and what could be improved. Thanks in part to this feedback, the SSC platform has undergone a variety of enhancements in identifying, tracking and communicating with students.
"In fact, MSU Denver was one of the only institutions to push EAB to add graduate students in the platform, which occurred in 2019," Allen said. "Additionally, MSU Denver was one of the first institutions that adopted EAB's student mobile app SSC Guide."
Due to its limitations of being available only to students with an Android smartphone or iPhone, SSC Guide utilization rates were low in the first few years. However, MSU Denver and other institutions recently pushed for EAB to integrate the mobile-app technology with the existing SSC Navigate platform. Since Feb. 1, utilization rates of the student platform have risen from 41% return utilization (2016-20) to more than 72%.
"This now ensures that all MSU Denver students have access to the same information in one student-success platform," Allen said.
Topics: Award, Excellence, Student Success, Technology
Edit this page