Early Bird
Today is #RoadrunnerTuesday!
Support students facing food insecurity with a gift to the Roadrunner Food Pantry.
November 30, 2021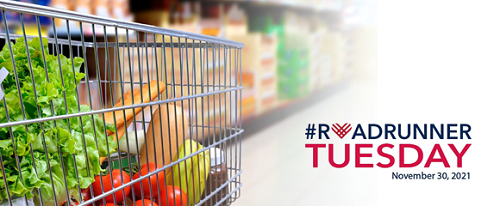 Roadrunner Tuesday is a special time of year when Roadrunners join one another to fight hunger at Metropolitan State University of Denver. Students facing food insecurity need our support more than ever, and today you can fill their plates and cupboards when you make a gift to the Roadrunner Food Pantry.
This year, the Roadrunner Food Pantry has served over 1,000 people, and the need for food and food resources shows no sign of slowing down. In the first two weeks of the fall semester, the food pantry served 490 students; it's now seeing 150-200 visits per week.
When you make a gift to the Roadrunner Food Pantry on Roadrunner Tuesday, we can reach our goal of raising $8,400 in 24 hours to provide 210 students with a week's worth of groceries. And this year, the first $5,000 will be matched by a generous donor, making your gift go even further!
According to a March survey, 39% of MSU Denver students could not afford to eat balanced meals and 39% worried that they would run out of food before they could afford to buy more. Also, 35% reported being food-insecure in the previous 30 days – skipping meals because they were low on funds or not consuming enough quality food.
Today, you can fight food insecurity at MSU Denver by making a gift to the Roadrunner Food Pantry. Spread the word about #RoadrunnerTuesday by becoming a Social Media Ambassador and sharing on your social-media accounts. Every ambassador will have a chance to win a prize pack.
Any gift, no matter the size, will make a direct impact on the well-being of our students, allowing them to reimagine a future where anything is possible.
Together, we can ensure that no Roadrunner goes hungry.
For more information about Roadrunner Tuesday, contact Bre Milnes, senior director of Advancement Communications and Annual Giving. To learn more about the Roadrunner Food Pantry, contact the MSU Denver CARE (Consultation. Assessment. Referral. Education) Team.
Topics: Advancement, Alumni, Events, Funding, Student Success
Edit this page