Early Bird
Navy Parachute Team to land on Tivoli Quad Monday
Precision parachuting demonstration will be part of Veterans Day celebration and tribute to Roadrunners who serve.
November 10, 2021
On Monday, Metropolitan State University of Denver, in partnership with fellow Auraria Campus institutions, will welcome the U.S. Navy Leap Frogs Parachute Team for a tri-institutional celebration of students, faculty members and staff members who are veterans.
The event will begin at 11:30 a.m. and feature a precision parachuting demonstration by the Leap Frogs, who will land at the Tivoli Quad.
"Veteran's Day is huge for the Leap Frogs," said Daniel Gonzalez, U.S. Navy mass communications specialist'. "We love the opportunity to demonstrate what the Navy is capable of, and the team is very excited to visit the campus and be a part of the celebration. Attendees can expect to be awed!"
Immediately following the Leap Frogs demonstration and a celebration of the Auraria Campus' military and veteran community, MSU Denver will host a pep rally to kick off the Rocky Mountain Athletic Conference Women's Volleyball Tournament, which begins Tuesday.
All Roadrunners and members of the campus community are invited to join the celebrations.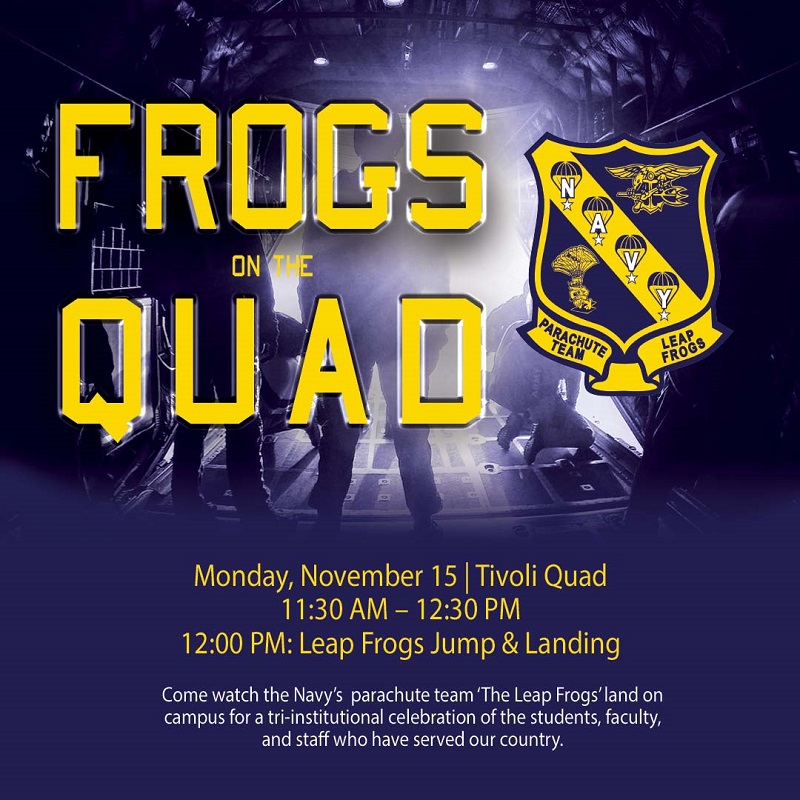 Topics: Events, Tri-institutional, Veteran's Day, Veterans
Edit this page