Early Bird
Wrap yourself from head to toe in Roadrunner spirit
Support student success in style with an exclusive MSU Denver Colorado Bundle.
November 10, 2021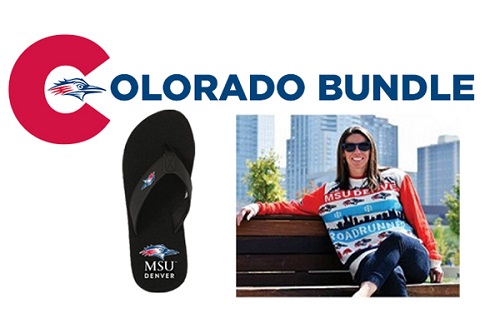 Before you know it, cold, snowy days will erase the memory of the hot, dry summer. But in true Colorado fashion, wintry mornings will melt away under the warmth of the afternoon sun. You're cold one minute, hot the next – what's a Roadrunner to do?
This season, there is no more Colorado way to show your Roadrunner spirit than with an exclusive Metropolitan State University of Denver Colorado Bundle. When you make a gift of $105 ($25 is tax-deductible) to any fund on campus, you will receive a limited-edition Roadrunner holiday sweater (85% super-soft acrylic, 15% wool) to stave off the cold and a pair of MSU Denver sandals for when the day heats up. Individually, the sweater can be yours with a gift of $75 ($15 is tax-deductible) and the sandals with a gift of $30 ($10 is tax-deductible).
Make a gift today to support student success at MSU Denver and get ready to greet winter in Roadrunner style with a Colorado Bundle!
For more information about the Colorado Bundle, contact Bre Milnes, senior director of Advancement Communications and Annual Giving.
Topics: Advancement, Alumni, Funding, Student Success
Edit this page