Early Bird
Encourage students to apply for a fully funded D.C. internship
Help promote a once-in-a-lifetime opportunity for Roadrunners. The deadline to apply is Oct. 15.
October 5, 2021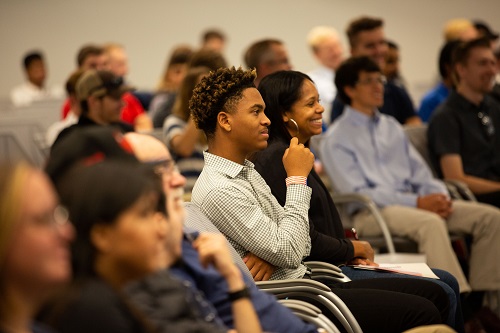 Most congressional internships or executive-agency internships in Washington, D.C., are unpaid and therefore out of reach for many MSU Denver students. However, thanks to the partnership between Metropolitan State University of Denver and the Hart Center for Public Service, these opportunities this year are a possibility.
The Hart and Presidential Federal Internship program will provide a cohort of MSU Denver undergraduate and graduate students with a fully funded opportunity to live and work in Washington for 10 weeks over the summer.
The program will serve up to six students, who will be supported through the Classroom to Career Hub at MSU Denver and the Hart Center. This program is funded through proceeds awarded through the Colorado Gives Day fundraiser and the Hart Center.
If accepted into the summer program, students will be provided with:
Placement in a full-time internship in public service in Washington with a stipend of up to $6,000 for 10 weeks.
Round-trip airfare.
Ground transportation (D.C. Metro Pass).
Room and board in Washington.
Academic credit for internship time (if applicable).
The deadline to apply is Oct. 15, and all students wanting more information are encouraged to email the program's manager, Cristal Herrera, at cherre21@msudenver.edu. If students need résumé or cover-letter help, they can email C2hub@msudenver.edu for support.
Faculty and staff members: If you know of any students who would benefit from this program, please send them this information.
Thanks to the collaboration of President Janine Davidson, Ph.D.; the Hart Center; and the Classroom to Career Hub, MSU Denver is excited to provide opportunities such as this one that promote the involvement of the next generation of public servants at the federal level and diversify and democratize civic engagement.
Topics: Classroom to Career Hub, Excellence
Edit this page