Early Bird
Honoring Hispanic and Latinx/o/a Heritage Month
Learn more about Department of Speech, Language, Hearing Sciences initiatives.
October 5, 2021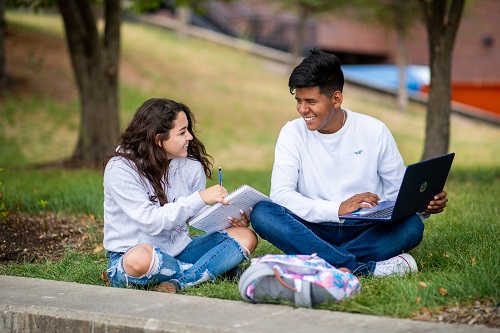 Speech-language pathologists and audiologists work with people with communication challenges and differences. The two professions consistently face a shortage of service providers who identify as Spanish-English bilingual. Additionally, disparities in age of diagnosis and access to services in public schools, hospitals and other clinical settings are common among clients from Hispanic/Latinx/o/a backgrounds.
At the Metropolitan State University of Denver Department of Speech, Language, Hearing Sciences (SLHS), we prepare our students to be advocates and champions for marginalized communities. The department also provides access and connections to community resources, and faculty members serve as cultural ambassadors to colleagues and institutions across Colorado. As we celebrate Hispanic and Latinx/o/a Heritage Month, we invite our campus partners to learn more about our programs and offerings.
Longstanding undergraduate program
To foster an inclusive, safe, welcoming environment, and to imbue students with a sense of cultural humility and competence early in their careers, the department offers a diversity-infused undergraduate education. Students participate in undergraduate research and service-learning projects that address topics relevant to Hispanic/Latinx/o/a communities and develop resource materials that are culturally sensitive and linguistically relevant.
In 2020, students developed a resource for Spanish-English bilingual parents of children on the autism spectrum that addresses commonly asked questions regarding the use of two languages at home with an autistic child. This video repository, "Recursos en español para niños y familias autistas bilingües," is free and available to the public.
Students have also developed bilingual resources on promoting hearing health in children and addressing myths associated with telehealth services. Hispanic/Latinx/o/a SLHS students have a meaningful experience and a sense of personal relevance while engaging in these projects. Meanwhile, non-Hispanic/Latinx/o/a students also benefit from collaboration and early exposure to cultural responsiveness.
Upcoming graduate program
The new Master of Science in Speech-Language Pathology (MS SLP) program will launch next June. In addition to earning their MS SLP degree, students will have the option to complete didactic and clinical education coursework with a specialization in bilingual service provision. This additional specialization supports MSU Denver's Hispanic/Latinx/o/a/ students by valuing their dual-language proficiency, their cultural heritage and the unique skills they bring to our graduate program and the profession.
The department will launch an on-campus, fully functioning Speech, Language and Hearing Clinic in spring 2023 to provide services in English and Spanish to MSU Denver students and alumni, their children and families, and community members with speech, language and/or hearing disorders and differences. Services will be offered on a generous sliding scale allowing even the most vulnerable individuals access to these important interventions.
As we embark on this new journey, we welcome input from the MSU Denver community. Do you or does someone you know experience communication challenges? Would you or a loved one benefit from therapy for speech, language and/or hearing? If so, please email Ilana Oliff, director of Clinical Education, to get connected with the program and stay informed about upcoming services.
Topics: Academics, Diversity, Excellence, Hispanic Serving Institution, Inclusion
Edit this page