Early Bird
Boost in use of open educational resources means huge savings for students
Attend a workshop Friday to earn a $200 stipend and learn how OER can reduce barriers and increase student success.
October 4, 2021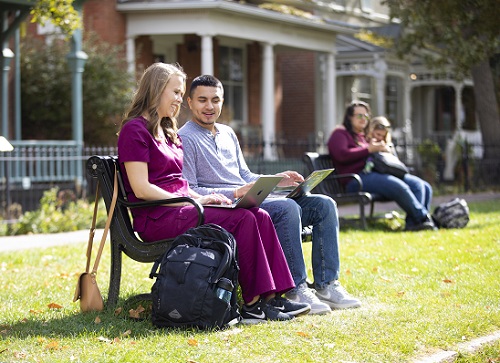 Metropolitan State University of Denver is experiencing explosive growth in the number of courses using open educational resources. The number of students realizing these savings increased from approximately 100 students in the 2015-16 academic year to 3,400 between summer 2019 and spring 2020. From summer 2020 through last spring, 11,200 MSU Denver students benefited from OER and saved nearly $1,000,000.
OER adoption allows students continuous access to the resource during a course and beyond with no cost barrier and in some cases drastically decreases the cost of a course.
"In the past, I had students who were unable to purchase the textbook(s), in first-year courses and General Studies courses especially, and they would get behind as a result or be unable to participate in class sessions when we were working with the text," said Lisa Suter, associate professor of English. "Now, they all have the text available on Day One, and there is no barrier to any student's success due to (inability to afford textbooks)."
Azure Avery, associate professor of Physics, adopted the OpenStax University Physics textbook and used end-of-chapter questions and Canvas quizzes in place of an online homework system. OpenStax textbooks are free, peer-reviewed and published by Rice University under open licenses (CC-BY).
"The OER textbook I adopted for use in my introductory classes has allowed the students to access their textbook wherever they are," Avery said, "and has alleviated the high level of student frustration with their former online homework system. It has also saved them over $300 a semester."
While the most obvious benefit with OER is student cost savings, it is also interwoven with student success. In course pass rates, OER sections performed slightly better (74.4% pass rate) than comparable non-OER sections (72.2%). Many faculty members find OER is of comparable quality to or even an improvement on publisher resources.
"Students in my SRIs comment on how they love the fact that the OER textbook, which they all like, didn't cost them anything," said Sanaa Riaz, associate professor of Anthropology. "I have heard no complaints or issues with the textbook."
Faculty members also can contribute to the body of OER. OER grants have supported faculty members in reflecting on and innovating in their courses. Liz Macy, assistant professor of Music, found that "developing my own OER resources also means that I'm constantly reassessing and evaluating what I'm using, why I'm using it and how I'm using it."
Want to learn more about OER?
Attend an Open Textbook Workshop facilitated by Emily Ragan, Ph.D., associate professor of Chemistry and Biochemistry; Rachel Stott, online-learning-program lead librarian, Auraria Library; and Rob Niemeyer, Ph.D., assistant professor of Mathematics.
Friday
2-3:30 p.m.
Faculty members will earn a $200 stipend after attending the workshop and reviewing an open textbook in their field through the Open Education Network's Open Textbook Library.
To learn more, please contact Ragan.
Topics: Academics, Best practices, OER, Open Educational Resources, Student Success
Edit this page