Early Bird
Kudos
Celebrate the achievements of MSU Denver athletes, cutting-edge programs and more.
October 27, 2021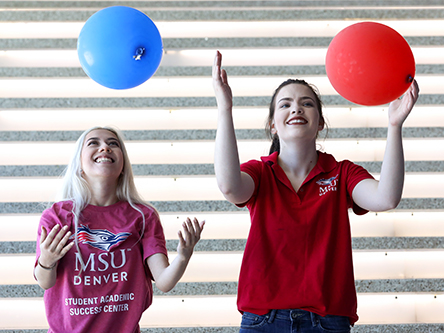 In addition to Faculty Citings, the Early Bird shines a spotlight each month on the accomplishments of Metropolitan State University of Denver faculty, staff and students as well as University partners.
If we missed an award, accolade or opportunity to celebrate an accomplishment big or small, please email us at earlybirdeditor@msudenver.edu.
Prestigious programs
MSU Denver recently joined a global network of leaders in internal auditing. The Institute of Internal Auditors is an international authority that unanimously accepted MSU Denver's application to its Internal Auditing Education Partnership program. Members of the IAEP are committed to providing high-quality education and student-faculty interaction and preparing students for immediate hiring after graduation. Thank you to all the Roadrunner faculty and staff members and student employees who participated in the rigorous IAEP application process and who continue to serve the Roadrunner mission of achieving excellence in education. Well done, team!
Last month, the Colorado Broadcast Association recognized Roadrunner journalists in the making. MSU Denver is one of only 15 universities in the nation to offer a pilot Broadcasting Sales Course through P1 Learning in sponsorship with the CBA. This fall marks MSU Denver's third semester of participation in the exclusive program. As part of the course's closing ceremony, students welcomed broadcast sales experts for a Q&A session and received a certificate of conclusion from the CBA. The students are in the TV Production course taught by Alfredo Sanchez, assistant professor and Broadcast Journalism faculty advisor in Journalism and Media Production. A standing ovation for these ambitious scholars!
Last week, the Center for Professional Selling hosted the third annual Rocky Mountain Madness Competition, a unique intercollegiate event that follows a bracket-style competition (similar to NCAA's March Madness). Students compete in a variety of categories, including role plays and a one-of-a-kind LinkedIn competition. The virtual event allows students to sharpen their virtual communication and selling abilities. Congratulations to the Center for Professional Selling team for doubling its 2020 participation, hosting 13 universities and nearly 200 student role plays. Student participants were also awarded $5,255 in prizes!
Exceptional educators
MSU Denver's Water Studies Certification Program and several hardworking faculty members were recently featured in Municipal Water Leader Magazine. The online publication interviewed Terry Bower, associate vice president of Innovative and Lifelong Learning, who recognized the need for a more interdisciplinary approach in fostering diligent stewards of a finite water supply and assisted in the establishment of an online Water Studies certification. The publication also featured an article by Matt Makley, Ph.D., professor and chair of History, who offered a historical overview of western water issues, and Management Professor Elizabeth McVicker, Ph.D., J.D., offering insight into the legal doctrine of water law in the West. Hats off to these innovative educators.
Superstar athletes
The MSU Denver volleyball team has been keeping rowdy all season, and the nation is taking
note. After winning its 16th straight match, the Roadrunner team earned 44 out of 47 American Volleyball Coaches Association first-place votes, securing the country's NCAA Division II No. 1 ranking. Be sure to cheer on these nationally acclaimed players as they face Colorado Christian Thursday at 7 p.m. in the Auraria Event Center for Faculty and Staff Appreciation Night. Shine on, Roadrunners!
Athletic excellence continued with an outstanding Roadrunner victory Sunday in the men's soccer match against Fort Lewis University. The odds were not in MSU Denver's favor when the game entered overtime with the Roadrunners playing one man down. Nevertheless, freshman Aaron Biggerstaff scored, securing a 1-0 victory and placing MSU Denver in a fifth-place tie in the Rocky Mountain Athletic Conference. A standing ovation for this team's true Roadrunner grit!
MSU Denver women's soccer players Annie Rolf and Kate Giordano are shining on and off the field. The RMAC has named Rolf and Giordano to the Academic All-conference team. The title highlights the exceptional athletic and academic performance of these inspirational athletes throughout the 2020-21 school year. Congratulations, Rolf and Giordano! Other MSU Denver student-athletes to make the Academic All-RMAC honor roll are Jordan Lewis, Miriam Caballero, Elisa Dean, Katy Harris, Riley Ostler, Jaimy Sawaged, Elli Zimmer, Kailey Maness, Jessica Mooney, Dani Nelson, Katy Coats, Julia Stanton and Diyonus Walls.
See more Roadrunner student-athlete success stories at roadrunnersathletics.com.
Topics: Academics, Athletics, Award, Excellence, Kudos
Edit this page