Early Bird
Jackson Lamb inducted into Foodservice Hall of Fame
The Colorado Restaurant Association in October recognized Chef Jackson Lamb with a Lifetime Achievement Award.
October 26, 2021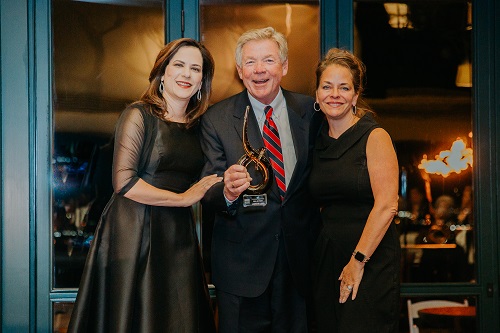 The Colorado Restaurant Association in October recognized Chef Jackson Lamb with a Lifetime Achievement Award. The beloved professor in Metropolitan State University of Denver's School of Hospitality joins the ranks of luminaries in the association's Colorado Foodservice Hall of Fame.
The prestigious award recognizes those who have made significant contributions in leadership, service and dedication to the food-service industry and community over the course of their careers.
In his nearly 20 years at MSU Denver, Lamb (pictured with Sonia Riggs and Beth Gruitch) has taught with enthusiasm and passion, educating future generations of culinary-arts and hospitality-management professionals. He is a consummate educator with a particular interest in hunger-related issues, the effects of volunteerism on culinary-skill competencies and customer service concerns in private club environments.
Throughout his career, Lamb has been a strong advocate for reducing food insecurity and food waste, serving as a board member of We Don't Waste and Food Bank of the Rockies. He also sits on the boards of the Colorado Restaurant Association, the American Culinary Federation and the Colorado Chefs Association.
Lamb has traveled to Super Bowls for more than a decade to bring students to the annual Taste of the NFL charity event, where they put their catering skills to the test in real-world situations. Additionally, he has produced dozens of culinary video tutorials that are published on the University YouTube channel and are used across the United States.
The Early Bird caught up with Lamb to learn more about how he got started in his culinary career, what inspired him to teach and his thoughts on the future of the hospitality industry.
What sparked your interest in cooking?
Lamb: My dad was a 25-year veteran of the police force, and that's really where I learned how to cook – going to the police family picnics in the summertime. You know, when I was a kid, I wanted to help. "Oooh! OK, I'm on hot dogs" – I'm 10. When I got to be 12, I moved up to hamburgers. That was a big jump, but when I got to be 14 I moved into clam shucking. Now you're handling knives and all that kind of stuff, and that's my early training when working with food.
What recipes stand out to you from your childhood?
Lamb: I think I was 10 years old. I can remember (my sister) had a slumber party with two or three girlfriends, and I get up one morning and I invented a new dish. It's called French toast au gratin. It's French toast with slices of American cheese on top. It's pretty decadent, but everybody loved it. If you ever have the opportunity: just two slices of French toast, American cheese in between them and then add syrup and butter. It's wonderful!
How did your culinary career begin?
Lamb: One of my first paying jobs was working as a dishwasher at a Swedish smörgåsbord restaurant. So that was my first exposure to the kitchen in the dish pit, and to be honest with you, today it's still my favorite job. Any cook, any chef, any bartender cannot make a move unless they have a clean plate or a clean glass. Most people think that's where it ends, but no; that's where it starts.
How did you discover your passion for teaching?
Lamb: Coming up through the restaurant business, every month we'd have an employee meeting, then all of the sudden they'd say, "Hey, you're gonna give the presentation at the next meeting." So I was kind of being groomed along those lines. One of the chefs that I knew was going to become the culinary director at the Colorado Institute of Art, and his first objective was to find faculty members. When he realized that I had a degree in hotel-restaurant administration, he had me talking to the dean of students the very next day. So right place, right time, right skill set – boom, I was in.
What brought you to MSU Denver?
Lamb: MSU Denver, or at the time Metro State College, contacted the Art Institute of Colorado because they needed an adjunct to teach a restaurant accounting class. That was in 2001, so I started teaching one class at MSU Denver every semester for about a year. Two years later, two faculty members retired at the same time and the department chair asked me to apply for the position. I recognized that the state school would have more lasting power than the private culinary school. And I was right. I think what we've done in our department has really transformed it over the last 15 years. Now, instead of being the Department of Hospitality, we are the School of Hospitality and we've got the staffing to back it up.
What are the most significant changes you've witnessed in the industry?
Lamb: There are so many nonprofits that are putting out food pantries and meals for people that are at or below the poverty level. We're seeing more of a food-distribution network than we've seen in the last 10 years. In addition to that, right now hotels and restaurants are really desperate for (employees). I tell my students that if you want to be a hotel general manager, there's never been a better time to pursue that education. Because we are so desperate to move people up the ladder, you can become a general manager in three years.
At least with the hospitality industry, I do see a future. It's not gonna be the way it was in the '70s and '80s when I grew up. It'll be different, but it will be vibrant and we will continue. Everybody has to eat. I see opportunity for growth in this industry.
Topics: Academics, Award, Excellence, Hospitality, School of Hospitality
Edit this page