Early Bird
There's less than a week left to celebrate Socktober
Don't miss out on supporting Roadrunners in need with a pair of limited-edition MSU Denver socks.
October 25, 2021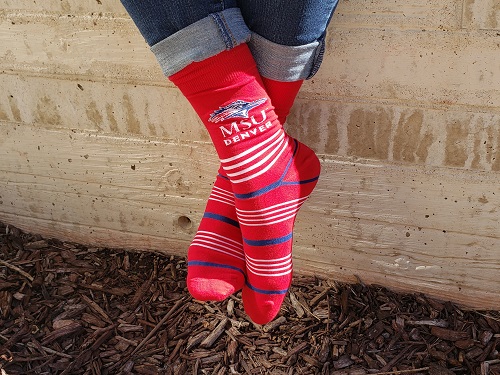 This year's Socktober giving event is drawing to a close, but there is still time to show your Roadrunner pride and support vulnerable students with a pair of Metropolitan State University of Denver-branded socks.
So far, our Roadrunner community has raised more than $11,000 and guaranteed that a minimum of 440 pairs of socks will be distributed to vulnerable students.
With your help, we can do even more
For every gift of $25 ($15 is tax-deductible) that you make to the Student Emergency Fund, Roadrunner Food Pantry or DREAMer Emergency Fund through Sunday, you and a student in need will receive a pair of cozy limited-edition MSU Denver socks. If you missed out on past sock designs, packages with four pairs of socks from all three Socktobers are available with your gift of $85 ($45 is tax-deductible).
Before time runs out, make a gift that will keep toes and hearts warm all winter long. Together, we can ensure that MSU Denver students have the support they need to reimagine a future where anything is possible!
For more information about Socktober, contact Bre Milnes, senior director of Advancement Communications and Annual Giving. To learn more about the Student Emergency Fund, the Dreamer Emergency Fund and the Roadrunner Food Pantry, contact the MSU Denver CARE Team.
Topics: Advancement, Funding
Edit this page