Early Bird
Inside the President's Cabinet
The Wednesday meeting included approval of three ITS policies, applause for Roadrunner excellence and important updates.
October 21, 2021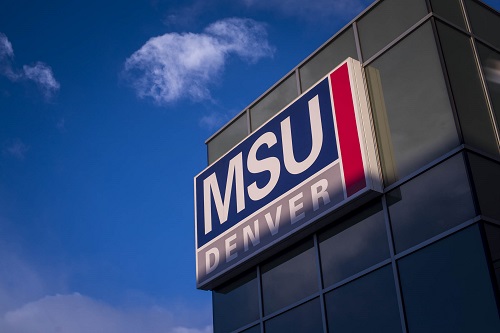 The Wednesday meeting of the President's Cabinet began on a high note with a presentation from Leone Dick, chief of staff to the vice president for Administration and Roadrunners Safe Return Committee lead.
"We are in extremely positive spirits right now," Dick said, showcasing Metropolitan State University of Denver's Covid-19 Dashboard data.
As of this week, MSU Denver's employee vaccination status is up to 98%, while the student vaccination status has climbed to 89%. These numbers have contributed to a University Covid positivity rate of 1.55% (as compared with the City and County of Denver's rate of 4.89% as of Oct. 17).
Dick's presentation also covered booster shots, travel guidance, vaccine requirements for University contractors, greater campus testing alignment and employee wellness.
See more on this presentation in today's Covid-19 and campus operations update.
Updates from President Davidson
President Janine Davidson, Ph.D., welcomed Gabriel Trujillo, Student Advocacy Council representative, and Andrea Smith, associate vice president for Strategic Communications, to the table for their first Cabinet meeting.
She also shared a brief update on the Auraria Higher Education Campus Strategic Plan, which will go to the AHEC Board next week.
"We really are moving toward a new era of Auraria collaboration and coordination," said Davidson, thanking all who provided input on the plan. "I'm excited because this is our campus, and if we want it to serve our mission, we need to be at the table."
Davidson also gave a shoutout to all who participated in, planned and supported the Roadrunners Who Soar Awards ceremony Oct. 14.
"It's so important to recognize … everyone who is doing such a great job in service to our mission. It warms my heart," Davidson said.
More updates from Davidson:
Jared Polis will release his budget Nov. 1. Davidson will speak to the Joint Budget Committee on Jan. 19 to continue advocating for increased higher-education funding and increased and equitable investment in MSU Denver.
The Biden administration has proposed a change that would preserve the Deferred Action for Childhood Arrivals program against court challenges and disentangle deportation protections from work authorizations. MSU Denver is preparing a comment in support.
As a reminder, the Strategy, Marketing and Communications branch has been restructured as University Communications and Marketing to increase efficiency and enhance collaboration. University Events has moved under the Advancement umbrella. And the University is developing a reorganized Strategy Office to include community outreach, government affairs, business intelligence and data analytics, led by a new chief strategy officer.
Policy updates
Acceptable Use of Computing Systems: Proposed changes included the removal of a redundant sentence, clarifying language to reference account credentials and information disclosure, and revised wording regarding timelines should anyone's account privileges need to be revoked.
Data Classification: Updates included adjusted language to clarify that the policy applies to contractors and that some items originally listed as confidential are public information. Language was also changed from "servers" to "systems" to include data held in virtual and cloud environments.
Device and Infrastructure Security: New language was added to clarify that devices issued by the University are also owned by the institution. Some outdated technical language was removed, and language under "Network Devices" now includes services that are connected to University systems. Language was also added to apply the policy to contractors.
"We're hoping we'll see fewer alerts related to sensitive data being shared via email or otherwise, and we're looking to see fewer hardware and software installations performed outside of our policies and procedures," said Mike Hart, chief information security officer and director of security. "We also want to avoid software-licensing costs or fines associated with software that is installed without ITS' awareness."
Cabinet members unanimously approved the policies, advancing them to Davidson for final approval.
Additional updates
Remember to attend the Employee Wellness Fair on Oct. 29.
Commencement will take place in person Dec. 17 at the Colorado Convention Center. Employees are invited to volunteer to serve as marshals.
Support the MSU Denver women's volleyball team, which is ranked first in the nation in Division II, tonight at Faculty and Staff Appreciation Night. The team also plays Oct. 29 against Regis University.
Provost Alfred Tatum, Ph.D., is conducting an analysis of the minor requirement for graduation and is meeting with stakeholders for feedback and awaiting recommendations from the Faculty Workload Task Force.
Watch the Early Bird for Cybersecurity Awareness Month tips.
The Aerobatic Flight Team is also first in the nation and performed last weekend at the Great Colorado Air Show.
Roadrunners can provide ideas or input on the spring advertising campaign by contacting Whei Wong, associate vice president for Marketing and Brand.
The University's digital transition is nearly complete, with 98% of the content migrated over to a single site.
RED Magazine was recognized by the Public Relations Society of America for its recent redesign.
An inclusive task force has been convened to create a free-expression statement that reaffirms the University's commitment to rigorous academic inquiry and to promote critical thought and free exchange of ideas. Look for updates soon.
University Advancement has raised $1.4 million for the current fiscal year and has almost $6 million in the pipeline.
Save the date for the School of Education's Office of Education Solutions conference in late February. Stay tuned for more details.
The Student Advocacy Council office hours are Thursdays from 10 a.m. to 5 p.m. and Fridays from 10 a.m. to 1 p.m. Meetings are Fridays from 2-4 p.m.
Topics: Events, Inclusive leadership, President's Cabinet
Edit this page