Early Bird
Honoring Roadrunners Who Soar
Third annual event includes laughter, tears and a celebration of MSU Denver excellence.
October 20, 2021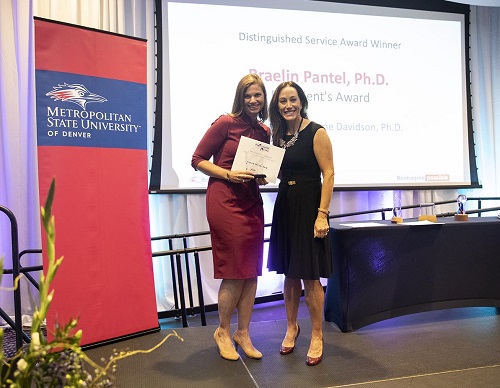 The Metropolitan State University of Denver community gathered Thursday at SpringHill Suites Denver Downtown for the third annual Roadrunners Who Soar Awards. The hybrid ceremony drew 100 in-person attendees and 128 virtual attendees to honor employees living MSU Denver's CADRE values and leading student-support efforts. Although Covid-19 has brought unprecedented challenges, Roadrunners continue to rise above with excellence and innovation.
Christine Márquez-Hudson, vice president of University Advancement and executive director of the MSU Denver Foundation, served as emcee. Presenters included President Janine Davidson, Ph.D.; Alfred Tatum, Ph.D., provost and vice president for Academic Affairs; Bill Henry, Ph.D., associate vice president for Faculty Affairs; and George Middlemist, Ph.D., associate vice president for Administration/CFO.
"Roadrunners Who Soar is our pinnacle celebration event to recognize our incredible people at MSU Denver, and what a fun evening we had," said Stacy Dvergsdal, associate vice president for Human Resources and event-committee lead. "I'd also like to thank and give a shoutout to the Roadrunners Who Soar team for their commitment in making this such a special event."
Watch the ceremony recording to see all the highlights, including surprise guests and lots of Roadrunner pride. Watch the Roadrunners Who Soar website for more photos of the event.
Golich awards
Staff and Administrator Excellence
Ruth M'Gonigle, brand manager, University Communications and Marketing
Michael Nguyen, director of Enrollment Management Systems and Operations
Colby Vollrath, student employee, Office of the Registrar
Outstanding Faculty Advisor of the Year
Shannon Adamsick, academic advisor and retention specialist, College of Letters, Arts and Sciences
Courtney Rocheleau, Ph.D., professor, Psychological Sciences
Outstanding Mentor for Undergraduate Research
Andrew Bonham, Ph.D., professor and chair of the Department of Chemistry and Biochemistry
Excellence in Online Teaching
Ingrid Carter, Ph.D., professor, Elementary Education and Literacy
Open Educational Resources Promotion on Campus Champion
Ann Diker, Ph.D., professor, Nutrition
Distinguished Service awards
Lisa Lasswell, assistant director, Health Center at Auraria
Matthew Kring, associate director of Student Success and College Completion
Sheila Rucki, Ph.D., professor, Political Science
President's award
Braelin Pantel, Ph.D., associate vice president, Student Engagement and Wellness/dean of students
Chair Excellence award
Award trophy designed by Matthew Odean, student, Industrial Design
Jessica Rossi-Katz, Ph.D., professor and chair, Speech, Language, Hearing Sciences
Team Roadrunner award
Award trophy designed by Ted Shin, chair, Industrial Design
Department of Human Services and Counseling
Shawn Worthy, Ph.D., professor
Tricia Hudson Matthew, Ed.D., associate professor
Brian Bagwell, Psy.D., professor
Jason Rose, assistant professor
Patrick Griswold, associate professor
Tara Hammar, Ph.D., associate professor
Angela Furney, field coordinator
Monica Simpson, academic advisor and retention specialist
Monique Left Hand Bull
Claire Critchlow
Department of Social Work Undergraduate and Graduate Field Education
Amanda Campbell, assistant director of Field Education
Stevie Noll, assistant director of Field Education
Krystal Gutierrez, field coordinator
Amanda Marsh Baranski, Ph.D., clinical field faculty
Cassie Mullin, field coordinator
Ann Sullivan, Ph.D., clinical field faculty
Karina Benabe
Ezra Block
Scarlet Smith
Instructional Design Group
Alex McDaniel, Associate Director of Instructional Design
Todd Wolfe, Instructional Media Manager
Fatimah Alebrahim, Ph.D., Instructional Designer
Emily Van Buren, Instructional Designer
Craig Ibarguen, Instructional Designer
Nicholas Ogg, Instructional Media Developer
Nathaniel Easley III, Junior Instructional Media Developer
Abby Kerr, Junior Course Developer
Rachel Ryan, Junior Course Developer
Chelsea Dyer, Junior Course Developer
Lindsey Schreiber, Junior Course Developer
Michael Rupert, Junior Course Developer
Laura McAllister, Junior Course Developer
Tanner Wilde, Instructional Design Support Specialist
Jennifer Whitton-Trujillo, Instructional Design Support Specialist
Jessica Gagnon, junior course developer
Soar awards
Award trophy designed by Ryan Wearp, student, Industrial Design
Sue Barnd, Ed.D., professor, School of Education
Rebecca Trammell, Ph.D., associate professor, Criminal Justice and Criminology
Leone Dick, chief of staff to the vice president for Administration
Karla Horgan Arévalo, health-career navigator, College of Professional Studies
Tim Carroll, director of Media Relations
Bridgette Coble, Ph.D., director of career engagement, Classroom to Career Hub
Topics: Award, CADRE, Events, Excellence
Edit this page