Early Bird
Fall census shows increasingly diverse student body
University exceeds 50% students of color threshold, sees continued growth in first-generation student percentage and number of graduate students.
October 18, 2021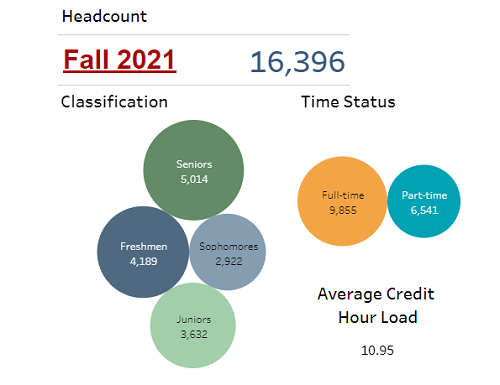 Metropolitan State University of Denver is educating 17,566 Roadrunners this semester, including a University record 1,170 graduate students (up 6.9% from fall 2020), according to the finalized fall census data.
The undergraduate student population of 16,396 marks an 8.2% decrease from the fall 2020 semester, with 50.3% students of color (1.9-point increase) and 33.3% Latino students (1.6-point increase). MSU Denver, which earned Hispanic-Serving Institution status in 2019 after launching an HSI initiative in 2007, has seen growth in the percentage of Latino students and students of color every year since 2006. As of fall 2021, 34% of MSU Denver graduate students are students of color.
The undergraduate population also includes an increasing percentage of first-generation college students (57.7%), as well as a majority transfer students (51.7%), 30.3% Pell Grant-eligible students and 5% military veterans.
MSU Denver continues to primarily serve Coloradans, at 95.6% resident undergraduates, with an average age of 24.9 years and median age of 22 years. Additionally, 91.9% of graduate students are from Colorado.
Undergraduate Roadrunners take an average course load of 10.9 credit hours, with 60.1% taking a full-time load of 12 hours or more.
To view MSU Denver's new student census visualization, which includes detailed tabs for different characteristics and five years of annual data for comparison, visit the Institutional Research webpage.
Topics: Enrollment, SEM Data Series
Edit this page