Early Bird
Introducing University Communications and Marketing
With a newly flattened organizational structure, the branch formerly known as Strategy, Marketing and Communications will offer streamlined messaging and cross-functional coordination.
October 14, 2021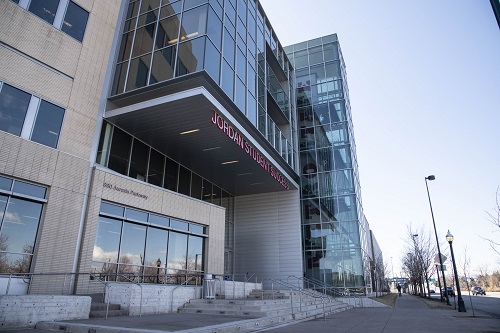 The Metropolitan State University of Denver branch formerly known as Strategy, Marketing and Communications is rebranding. The new name is University Communications and Marketing, and the restructured branch will report directly to the President's Office.
A leadership transition in this branch provided an opportunity to flatten the organizational structure and enhance cross-functional coordination with other parts of the University. The changes, which go into effect Friday, are designed to strengthen institutional alignment, streamline communication and enhance inclusive decision-making.
The team will be led cooperatively by Whei Wong, associate vice president of Marketing and Brand Strategy, and Andrea Smith, associate vice president of Communication.
"Part of my charge as interim vice president of Strategy, Marketing, Communications, and external affairs, was to consider how best to support the team and its work moving forward," said Eric Mason. "Flattening the structure will enable a new level of insight and real-time information-sharing, putting these critical functions closer to where decisions are made. Whei and Andrea are well-positioned to lead the University's marketing and communications efforts and will be the primary contacts for this area."
As part of this realignment, University Events, which had been part of the former Strategy, Marketing and Communications branch, will report to University Advancement, where robust event planning and community outreach already take place. Combining the event divisions of these two groups will be more efficient and provide deeper support for the President's Office and select University wide events.
Meanwhile, the newly configured University Communications and Marketing branch will maintain its current scope, spearheading advertising, branding and internal and external communication.
The University's strategy functions will also be realigned as part of this flatter, more efficient structure. The University is recruiting a chief strategy officer and a director of strategy, who will lead a new Strategy branch. This unit will facilitate the implementation of MSU Denver's 2030 Strategic Plan while also assessing emerging strategic initiatives and capital-intensive projects. The chief strategy officer will oversee government affairs, community relations and data analytics and will also report to the President's Office.
"Streamlining these important functions will create efficiencies in our overall administration, while helping us focus attention on our strategic goals," said President Janine Davidson, Ph.D.
Frequently Asked Questions:
Does this change the purpose of the University Communications and Marketing team?

No. The team's purpose to communicate internally and externally remains unaltered. It will continue to tell the MSU Denver story through brand and reputation management. The department will remain focused on Universitywide strategic priorities, including amplifying awareness of the University's signature educational mission of meeting students where they are while enhancing its role of providing affordable and transformative undergraduate and graduate education.

Will this impact how University Communications and Marketing interacts with the MSU Denver community?

No. The current relationships and scope will remain the same.

What can the University Communications and Marketing team do for me?

University Communications and Marketing can help you share your story internally with faculty members, staff members, students and stakeholders and externally with our community and the media. The team can help you produce communication materials, with priority for projects that have large audiences and are central to the University's strategy. The team also can consult on marketing and advertising plans.

Who leads the University Communications and Marketing team?

Whei Wong, associate vice president of Marketing and Brand Strategy, leads the marketing, advertising, brand and digital-strategy teams, which are tasked with creating brand awareness regionally for MSU Denver via digital content and strategy for the University website; advertising the University's extensive programs; and supporting student recruitment. Andrea Smith, associate vice president of Communications, leads internal and external communication. That includes overseeing MSU Denver's online newsroom, RED, and the Early Bird, MSU Denver's daily official employee communication; crisis communications; University photography and videography; news-media coordination; and social-media strategy. Mason will be concluding his interim role leading the communications and marketing teams but will continue to serve the University in another temporary capacity, helping to set up the new Strategy Branch.

How do I connect with the University Communications and Marketing team?
Is University Communications and Marketing still supporting University events?

Yes, the team will continue to collaborate on and support Universitywide events.
Topics: Strategy, Marketing and Communication
Edit this page