Early Bird
Enjoy Campus Recreation access for $5 a day or less
Faculty and staff: Purchase day passes or a discounted semester membership to fit your hybrid work style.
October 12, 2021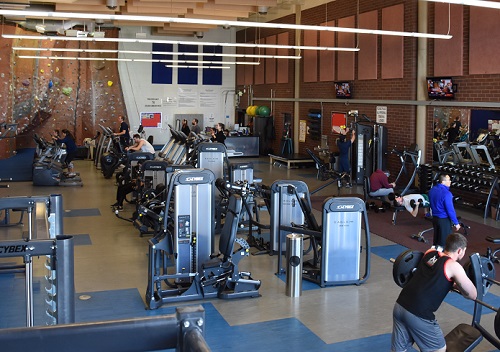 Campus Recreation understands that Metropolitan State University of Denver employees have a hybrid work style, which is why the program offers day passes for only $5. MSU Denver staff and faculty members can purchase a semester membership for the regular price of $50, with a 50% off sale starting Oct. 25 (good through Dec. 17), which is even more affordable than the $5 daily rate. This membership is already included in tuition fees for students enrolled in an on-campus course.
A Campus Recreation membership or day pass allows access to the fitness center, brand-new locker rooms, group fitness classes, a rock-climbing wall, open recreation and more. Facilities are open Monday-Friday from 7 a.m. to 7 p.m., with open recreation (drop-in sports) offered Monday-Thursday from 2-6 p.m.
Group fitness classes are conveniently offered during the lunch hour and after work. If you like adventuring and need equipment, stop by Outdoor Pursuits to rent tents, sleeping bags, snowshoes, field games and anything else you may need to enjoy the outdoors.
To learn more, please visit PE/Event Center Room 110, go to msudenver.edu/recreation, email recreation@msudenver.edu or call 303-615-1500.
Topics: Health
Edit this page