Early Bird
Free Application Weekend on Feb. 13-14
Here's how future Roadrunners can take advantage. PLUS: You're invited to the 'Rowdy Way' high school/community-college recruiter event.
January 27, 2021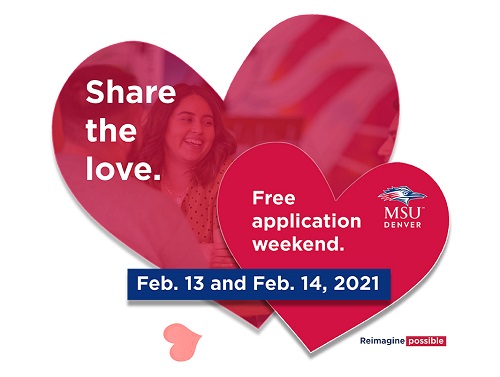 Metropolitan State University of Denver is waiving the $25 undergraduate and graduate application fee for the upcoming Free Application Weekend, Feb. 13-14.
This marks the first time the University is offering a spring version of the fall statewide recruitment event, timed to get ahead of financial-aid and scholarship deadlines. In addition to undergraduate applications, graduate-level application fees will also be waived as part of the event.
"With Covid-19 affecting pretty much everything, Free App Day is more critical than ever this year as more students are holding off on applying until later," said Vaughn Toland, executive director of Admissions and Outreach with the Office of Admissions.
Last fall's Free Application Day saw 4,795 applications, an increase of about 1,000 from the same time in 2019. The introduction of the Common Application – a central resource that allows students to apply to multiple schools from one central, seamless process – has resulted in an increase in applications from traditional-age students.
The Valentine's Day weekend event is anticipated to support a large number of transfer students, students of color and first-generation students, Toland said.
"The benefit of the Free App Day is that it encourages students to set and meet a deadline," added Garrett Spradlin, assistant director of Admissions for Visitor Services and Recruitment Communications. "It lowers the barrier for entry, too – prospective students can diversify their college options without obligation and see what MSU Denver has to offer them."
The virtual event will have admissions counselors available for scheduled virtual one-on-one appointments and drop-in sessions. Scheduling and more information is available at the MSU Denver Free App webpage.
The Rowdy Way virtual counselor "luncheon"
MSU Denver is also excited to welcome high school and community-college counselors from across the state to take part in an annual recruitment kickoff and informational workshop Feb. 19.
Previously an in-person luncheon, this year's offering – dubbed "The Rowdy Way" – is a more condensed version of admissions processes and support. All MSU Denver employees are invited and encouraged to take part in the virtual event.
"It's a great way to build community across institutions and see what recruitment looks like in different areas," said Cameron Simmons, director of Diverse Recruitment at MSU Denver.
"These are the people who send students to us, and it's important to remember where every journey begins," Spradlin added.
For more information on the Rowdy Way event, email Simmons here or sign up to attend.
Topics: Enrollment, Events, Registration, Student Success
Edit this page