Early Bird
University experts visit 'Teaching in Higher Ed' podcast
Michael Benitez, Ph.D., and Meredith Flynn, Ph.D., discuss meeting the moment through inclusive teaching.
January 11, 2021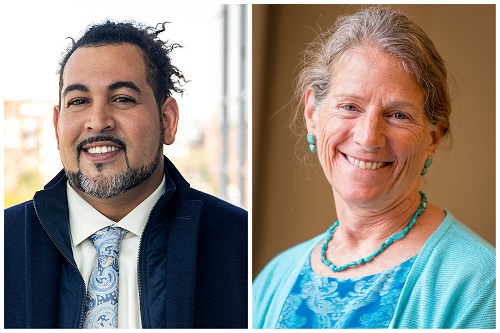 Metropolitan State University of Denver leaders regularly share their experience and expertise in the media. Recently, Michael Benitez, Ph.D., vice president for Diversity and Inclusion, and Meredith Flynn, Ph.D., associate director of Teaching and Learning, visited the "Teaching in Higher Ed" podcast to discuss inclusive pedagogy and teaching.
Speaking with host Bonni Stachowiak, Benitez and Flynn discussed inclusive teaching as an approach that accounts for students' diverse educational-support needs, situations, personalities and identities, noting the need for educators to think about the different ways students learn and consume knowledge.
"Pedagogy is truly a craft. It is an art and requires us to be attentive to it," said Benitez.
Flynn also shared her own experiences of gender discrimination as a graduate student and about maintaining an awareness of microaggressions in the online learning space.
"As educators, we want to make sure that we create really welcoming environments and that our learning environments promote equitable and successful outcomes for our students," Flynn said.
To learn more, and to listen to the full podcast episode, visit the Teaching in Higher Ed website.
Topics: Academics, Access, Center for Teaching, Learning and Design, Diversity, Excellence, Experts in the Media
Edit this page