Early Bird
Trustees approve 15 new academic programs, say goodbye to longtime members
Last week's gathering also included presentations on student mental health and AHEC facilities.
December 9, 2019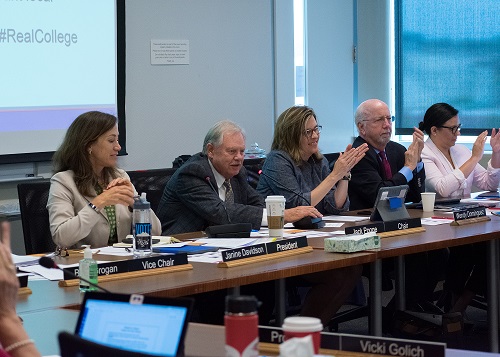 Metropolitan State University of Denver's Board of Trustees met Thursday and Friday. Here are the highlights from two half-days of committee meetings, presentations, robust discussion and big decisions.
Board member updates
Chair Jack Pogge and Trustee Walter Isenberg celebrated their final board meetings. Pogge has served for eight years, with the past two as chair. Isenberg, who was not in attendance, has served since 2012 and has been a longtime supporter of the University. Trustees universally praised Pogge for his steady and inspiring leadership, with President Janine Davidson, Ph.D., calling him a "model board member."
In his characteristic way, Pogge shared a brief but poignant message of gratitude. "I've come to really appreciate the mission of this University, the enthusiasm of the kids that go here … and how we are a life-changing organization for them," Pogge said. "It's been a pleasure, and I feel like I'm leaving this work in great hands."
The board then voted to elect Barb Grogan as chair and Wendy Dominguez as vice chair. Grogan noted that Pogge's leadership had been instructive for her as she moves into the new role.
Pogge also announced that the board had come to terms with Davidson on a 5-year extension to her contract. In a unanimous vote, the board approved the contract, and it was signed later in the meeting.
Stay tuned to the Early Bird for a longer story on the legacy of departing trustees next week.
Student-auditors share recommendations
As has become a biannual tradition, students in a master's degree accounting class presented audit research and recommendations to the board. This year's presentations were on the efficacy of Chrome River, cost considerations related to class sizing and an analysis of the auxiliary fee rate.
Students Julia Hollenback and Rachel Pearson led the internal audit on Chrome River. They spoke to Roadrunners who use the system to get feedback on their experiences. While the tool seems to be accomplishing its goals overall, the students noted two areas for improvement. They recommended more regular training, as well as user-specific learning modules. They also recommended better communication around the availability of current Chrome River tools to ensure that users have a clear sense of the capabilities and benefits of the system.
Each of the audit presentations sparked extended conversation among the trustees, who were particularly impressed by this year's students. Dominguez said the presentations "were some of the best we've ever seen."
New academic programs on the way
As a recognized innovator in higher education, MSU Denver continues to develop programs to help meet the needs of students and the state. The board discussed and approved a variety of new educational options while agreeing to the discontinuation of others.
Among the approved changes was a name change for the School of Hospitality, which was formerly called the School of Hospitality, Events and Tourism. The board also approved the creation of the Rita and Navin Dimond Department of Hotel Management, which was previously categorized as a program.
New degrees, minors, certificates, concentrations and endorsements:
Master of Science in Speech-Language Pathology, Department of Speech, Language, Hearing Sciences
Bachelor of Science in Business Intelligence, Department of Computer Information Systems and Business Analytics
Bachelor of Science in Hospitality Leadership, School of Hospitality
Bachelor of Arts in Professional Selling, Center for Professional Selling
Minor in Trauma Studies, Department of Human Services and Counseling
Minor in Digital Marketing, Department of Marketing
Minor in Business Sustainability, Department of Management
Certificate in Digital Marketing, Department of Marketing
Graduate Certificate in Business Analytics, Department of Computer Information Systems and Business Analytics
Graduate Certificate of Cyber Defense, Department of Criminal Justice and Criminology
Graduate Certificate of Cybercrime Investigation, Department of Criminal Justice and Criminology
Graduate Certificate of Cybersecurity Leadership, Department of Criminal Justice and Criminology
Concentration in Trauma, Department of Human Services and Counseling
Concentration in Disciplinary Knowledge, Department of Elementary Education and Literacy
Bilingual Education Specialist Added Endorsement, Department of Special Education, Early Childhood and Culturally and Linguistically Diverse Education
Discontinued Programs:
School of HEaT Programs (several that are addressed in new generalist degree), School of Hospitality
Literacy Concentration (best practices now embedded into courses across school), School of Education
Recreation Minor, Department of Health Professions
Recreation Generalist Concentration, Department of Health Professions
German Translation Certificate, Department of Modern Languages
Student mental health
Braelin Pantel, dean of students, and Nick Stancil, legal counsel, gave an informative presentation on the mental-health needs of today's students and how MSU Denver is working to address those needs.
They noted the blended approach the University is taking with student mental-health care, which combines clinical and administrative support. Pantel also highlighted the student mental-health fee, which students developed and approved. The fee gives Roadrunners full access to the Counseling Center and mental-health resources in the Health Center for no cost at the time of service.
This is particularly important for students at MSU Denver who often "experience significant life stressors" when compared with peers at other institutions. Pantel noted that homelessness and immigration status are among many potential contributing factors.
Pantel said mental health will continue to be a major concern at colleges and universities and that MSU Denver is working to stay ahead of the curve with discussions already underway about better addressing the needs of bilingual, graduate and online students.
Auraria Higher Education Center past, present and future
AHEC CEO Colleen Walker gave an enlightening presentation about the history of the Auraria Campus, shared updates on budget requests from the Capital Development Committee and spoke about the timeline for her organization's strategic-planning process.
Funding received from the CDC last year kicked off "Project A," a steam-to-natural-gas conversion in the shared campus core that is already underway. Walker and Davidson will make the case at the CDC this month for funding "Project B," which would replace the HVAC systems in several shared buildings. The systems are overdue to be replaced.
Walker said AHEC is ramping up efforts to develop a strategic plan. She said her goal was to have a consulting firm selected by March and that the process would last 6 months. "We've had master plans in the past, but the strategic plan will help us think about who we want to be and how we will collaborate," she said. The timing is fortuitous in that it overlaps with MSU Denver's own strategic-planning process.
Board of Trustees business meetings are open to the public. You can also listen to live audio of meetings on the trustees' website.
Topics: Board of Trustees, Events, President Davidson
Edit this page