Early Bird
Hire a veteran
Need support between semesters? Hire a former service member at no cost through the Veterans Break Pay program.
December 5, 2019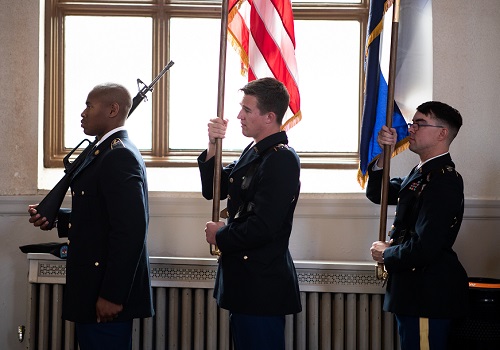 Could your office or department use an extra hand to complete big projects during the break between the fall and spring semesters? If so, check out Veterans Break Pay, a program that offers student veterans the opportunity to work full time on campus between semesters.
Student veterans do not receive monthly housing-allowance payments from the Department of Veterans Affairs while classes are not in session, and the student-driven Veterans Break Pay program helps fill the financial gap for these students. Veterans Break Pay wages are paid out of a special designated fund, so no money comes out of any Metropolitan State University of Denver program budget. Hiring a student through the program is a great opportunity to get assistance for special projects or to keep your front desk staffed during the winter break.
The College of Business has employed four break-pay student veterans over the past two years to cover main-desk responsibilities during the winter break. "(The student veterans) were very professional and willing to help wherever needed," said Erica Yan, Office of the Dean, College of Business. "I look forward to working with student veterans again this year!"
These positions also provide a way for student veterans to earn income through a convenient campus job without a long-term commitment. However, many students involved in the program have continued their work-study or hourly positions with the offices that employed them through the program.
Items to note:
Students may work up to 40 hours per week for the break between fall and spring semesters.
Workweeks are Dec. 16-20 and Jan. 2-3, 6-10 and 13-17.
Hours are logged and approved through Webtime.
If interested, contact Rita Case, director, MSU Denver Veteran and Military Student Services. Please include what office, how many students can be hired and a description of the work to be done during the break. No guarantees are made regarding student placement.
Topics: Hiring, Student Success
Edit this page