Early Bird
Inside the President's Cabinet
The meeting Wednesday featured infrastructure and Human Resources presentations as well as awards for campus innovators.
December 5, 2019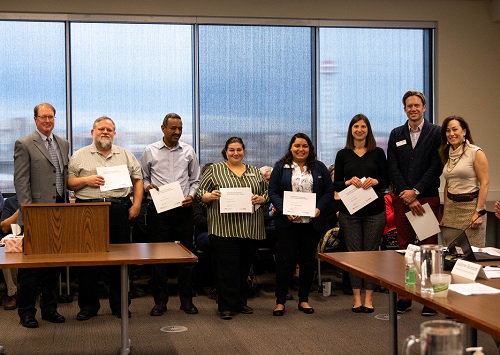 President Janine Davidson, Ph.D., began the meeting of the President's Cabinet on Wednesday by reiterating that Metropolitan State University of Denver's strength lies in its values of diversity and inclusivity.
Policy update
University Policy Committee leaders Sheila Rucki, Ph.D., associate professor, Political Science, and Nick Stancil, J.D., deputy general counsel, presented the Board of Trustees-level Academic Freedom Policy. The policy was drafted by the Faculty Senate Academic Policy Committee and is based on language developed by the American Association of University Professors.
Previously, the policy language was part of the First Amendment Policy, but it was developed into a stand-alone policy as the academic-freedom standard protects a broader range of speech while requiring a higher standard with regard to disciplinary expertise. The policy applies to students and faculty members and extends to research and classroom learning activities. Rucki added that invited guest speakers must also meet the policy standards, which outline that classroom speech and activities must be in pursuit of the creation of knowledge and adhere to curricular and disciplinary standards.
Cabinet members requested more specific language on how the policy might apply to administrators who publish and/or conduct research, and therefore the policy will return to the APC for further development.
President's Team Award winners
Davidson recognized the Admissions and Information Technology Services teams for their collaborative development of an automated admissions-response process. This innovation paid off on Colorado Free Application Day when MSU Denver processed 3,800 applications in just three days.
"This is an example of how, internally, we can tackle a problem," Davidson said. "It doesn't necessarily matter where you sit. … You can innovate and make things better for our students."
Award recipients included Vaughn Toland, executive director of admissions and outreach; Morgan Raleigh, director of recruitment; Adrienne Perucca, associate director, Admissions Systems and Data; Marlynn Rocha Vasquez, director of internal operations for admissions; Steve Stanek, senior systems analyst, application services; Mohamed Elshakh, manager, Student Technology; and John Warren, applications developer.
Advisory Council on Built Environment and Infrastructure presentation
Council co-leads Amy Kern, assistant professor, Industrial Design, and Jeno Balogh, professor, Engineering and Engineering Technology, discussed the council's progress and focus on prospective improvements to the West Classroom Building. Ideas and recommendations were generated through a collaborative process that also included input from the Access Center.
Thus far, the group has identified needs in the areas of inclusive wellness and safety, surfacing, furniture and architectural renovation. These include the need for improved branding and signage, revitalized entryways and restrooms, the addition of charging stations and study nooks, and the introduction of configurable and sit-and-stand workstations. The team also noted safety hazards such as dead-end hallways and lack of exits, and highlighted areas of opportunity such as the rooftop and exterior space below the pedestrian bridge.
Larry Sampler, vice president for Administration and Finance/COO, and the Facilities Planning team will now collaborate with the council to examine actual costs and potential plans of action. Stay tuned for a deeper dive in an upcoming issue of the Early Bird.
Human Resources presentation:
In her Human Capital Update, Stacy Dvergsdal, AVP for Human Resources, focused on trends, employee experiences and next steps. As MSU Denver employees largely have a strong foundation of purpose and a passion for serving students, Dvergsdal hopes to reinforce this positive culture through automation tools to ensure greater data integrity and a new leadership-development program.
Jessica Ward, HR generalist, also shared exit-interview data showing that wages, retirement and lack of growth and advancement opportunities are the primary reasons employees leave the University, and highlighted compensation-project progress and efforts to ensure competitive, equitable pay in support of retention and recruitment.
Amanda Berry, senior benefits manager, highlighted the parental- and medical-leave policies as well as learning and development benefits such as the Employee Tuition Benefit, professional-development fund, supervisor-excellence toolkit and other resources.
Commencement presentation
On Dec. 13, more than 1,000 graduates will participate in Commencement ceremonies. Keynote addresses will be delivered by Lt. Gov. Dianne Primavera and Adm. Jim Stavridis, with speeches from President's Award winner Michaela Rael and Provost's Award winner Samuel Berg. The entire campus community is encouraged to attend. Contact Cora Potter, manager of University events and protocol, for more information.
Other updates:
Omar Montgomery, Aurora mayoral candidate, will give the keynote address at the 2020 Martin Luther King Jr. Peace Awards and Breakfast.
Author and political analyst Joy Reid will visit campus Feb. 26-27 as part of the Rachel B. Noel Distinguished Professorship program and the Bridge Speaker Series.
The 2020 Latinx Leadership Summit is scheduled for March 12.
The MSU Denver Foundation has hired a new chief financial and operating officer, Lori Herrera, who will begin Monday. Herrera is also an MSU Denver graduate.
MSU Denver reached its Giving Tuesday goal by reaching more than 100 donors and raising more than $5,000.
Student Government Assembly President Danielle Holmes announced her resignation from the position due to health reasons. Vice President Braedan Weart will replace Holmes in the role.
The next Staff Senate meeting is Dec. 12, and Staff Senate President Rebecca Reid, learning and development specialist, is accepting student-employee recommendations for an at-large senator position.
Spring registration is currently down by 8.7%, and the coordination registration campaign developed for the fall 2019 semester has been reactivated.
MSU Denver will host the release of the Colorado Pipeline Talent Report on Tuesday at 3:30 p.m. at St. Cajetan's with Colorado Workforce Development. Please visit the CWDC website for more information.
The MSU Denver Women's Volleyball team has advanced to the NCAA Tournament for the 20th straight year. The University will also host NCAA Division II Nationals from Dec. 12-14.
Please RSVP for the Trends in Higher Education Workshop on Monday from 10:30 a.m.-noon in Tivoli 320 and the Student Experience Workshop on Monday from 1-4 p.m., Tivoli 320. The workshops are part of ITS' Banner Environment Assessment.
Topics: President Davidson, President's Cabinet
Edit this page