Early Bird
Kudos
This month's list of awards and accomplishments might be our biggest yet!
December 4, 2019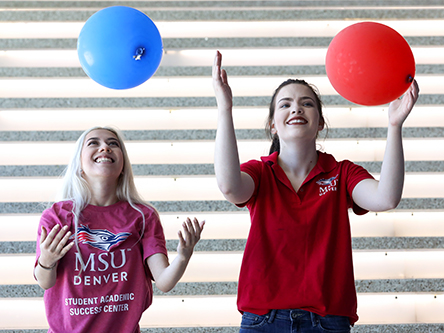 In addition to Faculty Citings, the Early Bird shines a spotlight each month on the accomplishments of Metropolitan State University of Denver faculty and staff. This month, we're also recognizing MSU Denver alumni making our community safer and healthier. If you know colleagues or graduates who deserve a round of applause, email earlybirdeditor@msudenver.edu.
Outstanding faculty members
On Nov. 6, Devi Kalla, Ph.D., professor, Mechanical Engineering/Engineering Technology, gave a lecture to more than 200 students and fellow educators at the Shandong University Additive Manufacturing Engineering Technology Research Center. Kalla presented his report "Additive Manufacturing Functionally Graded Materials for Structural Applications," introduced the basic theory of additive manufacturing and existing technologies, and gave a detailed introduction to functional gradient materials.
Deborah Mathias, R.N., and Jenny Allert, R.N., assistant professors, Nursing, are recipients of a Nurse Faculty Loan Repayment Program Award. The awards cover a portion of their student loans in exchange for an agreement to remain at MSU Denver for the next two years as an effort by the State of Colorado to retain nurse faculty.
Dea Robinson, lecturer, Health Professions, was invited to speak at the Colorado Medical Group Management Association's Lunch and Learn Mentoring Launch on Nov. 20.
Health Professions faculty members Michelle Tollefson, Ph.D., associate professor, and Brittney Plaven, lecturer, along with a group of Lifestyle Medicine undergraduate students, presented at the American College of Lifestyle Medicine National Conference in Carlsbad, California. The conference also debuted a video that highlighted the new, one-of-a-kind Lifestyle Medicine Program at MSU Denver.
Erin Seedorf, Ph.D., assistant professor, Health Professions, served as a panelist for the Northglenn High School STEM Vaping Problem-based Learning challenge and provided public comment at a Broomfield City Council hearing on the vaping issue. She also co-presented at the MSU Student Activities November Hot Topics session "Let's Clear the Air: A Talk About Vaping."
The Council on Social Work Education invited Tanya Greathouse, Ph.D., assistant professor, Social Work, to be part of a curriculum-development project to expand practitioner education in social work for substance-use disorders. The 2-year project will create a high-quality standardized SUD curriculum, which will strengthen the preparation of future social-work practitioners to deliver effective, evidence-based SUD prevention, treatment and recovery services.
Jennifer Watson, RDN, lecturer, School of Hospitality, received the ConAgra Scholarship from the Academy of Nutrition and Dietetics Foundation. Watson is a Ph.D. student at Iowa State University in the Hospitality Administration Program and plans to research plant-based cuisine in hospitality education for her dissertation.
Andy Traver, executive in residence, Criminal Justice and Criminology, provided keynote remarks on effectively leading organizational and cultural change at Sport Integrity Australia's spring conference in Canberra. He also participated in a panel discussion regarding ethical behavior and conduct in sport and met with the minister for Sport, the executive director of the Australian Institute of Criminology and the CEO of the Australian Criminal Intelligence Commission before participating in a wreath-laying at the Australian War Memorial Museum.
Communication Design affiliate faculty member Martin Mendelsberg has been invited by the Peruvian Design Association, Asociación Peruana de Diseño, to serve as a jury member in an international poster competition, Posterists in the World 2019. Mendelsberg is a designer, typographer and design educator who has exhibited internationally and within the U.S.
Azure Avery, Ph.D., associate professor, Physics, was awarded a grant from the Jonathan F. Reichert Foundation for Enhancing Advanced Laboratory Physics Instruction to purchase an experimental setup for the Room Temperature Hall Effect. The department will add this experiment to its current upper-division laboratory curriculum to teach about the difference between metals and semiconductors, to measure whether electrons or holes carry the charge in a material, and to measure density.
Communication Studies faculty members Karen Lollar, Ph.D, professor (lead author), and Dan Lair, Ph.D., chair (co-author), were awarded the 2019 Top Paper Panel Participant from the National Communication Association, Communication Ethics Division, for their paper "The Dialogic Backroom: Precursor to Transparency."
Assistant Professors Steve Krizman and Michelle Baum attended the 2019 Southwest Education Council for Journalism and Mass Communication Symposium with former Department Chair and current Associate Vice President of Curriculum and Policy Development Shaun Schafer, Ph.D., on Oct. 4-5 at Xavier University. Their presentations included Service Learning for Public Relations courses, the closing of the Rocky Mountain News and measuring what readers view when reading and watching news media.
On Nov. 7, the Department of Nursing celebrated its 50th anniversary and welcomed a number of graduates and former faculty members back to campus. The department also recently provided recommendations for the Sunset Nurse Practice Act review, which is performed to determine whether a regulatory program is necessary and should be continued, modified or eliminated.
Outstanding students
Journalism and Media Production students Shara Merrill and Adelena Ortiz-Lovato, together with Professor Lisa Ortiz, participated in the Colorado Migrahack event at the University of Denver. The event uses multimedia storytelling and data-driven approaches to improving understanding about immigration through a collaboration of journalists, community partners, web developers and designers.
An undergraduate student team coached by Jason Lopez, lecturer, Health Professions, participated in its first national undergraduate case competition hosted by the Master of Health Administration program. The event welcomed undergraduate students and faculty coaches from 15 colleges and universities to present proposed solutions to a telestroke case.
Katrina Chaffin, Master of Health Administration candidate for fall 2019, was the first recipient of the 2019-20 Colorado Association of Healthcare Executives $500 scholarship. CAHE awards this scholarship to a student who demonstrates a high level of dedication to their academic pursuits and substantial contributions to health care professional communities.
As part of her senior internship at Planned Parenthood, social-work student Callie Shelton spearheaded the organization's Sex, Politics & Cocktails event Nov. 19, which was focused on sex education, reproductive rights and disability rights.
Nine School of Hospitality students and Shawn Jung, assistant professor, Hospitality, successfully completed the Events Industry Council's Sustainable Event Professional Certificate program.
The MSU Denver Advanced Manufacturing Club accepted a $10,000 check from Lockheed Martin Space at the company's campuswide recruiting event Nov. 13. This generous gift will help engage students in multidisciplinary projects having an advanced-manufacturing focus. Members have already reached out to the American Society of Mechanical Engineers Student Club and the MSU Denver Drone Club, and exciting collaborative projects are in the works.
Television-production students instructed by Alfredo Sanchez, assistant professor, Broadcast Journalism, had their first two shows of the year aired on KCDO-TV on Oct. 26 — and received excellent ratings!
Student Jessica Monda and fellow Yellow Team 3 members were category winners and overall winners at international business honor society Beta Gamma Sigma's 2019 Global Leadership Summit case competition.
If you know Roadrunners doing fantastic work to advance University goals and student success, or those doing great work in the broader community, remember to share it with the Early Bird! We
Topics: Community, Excellence, Inclusive leadership, Student Success
Edit this page