Early Bird
Accomplishments in OER
Initial implementation of grant leads to projected student savings of up to $3.4 million – and interstate recognition.
December 3, 2019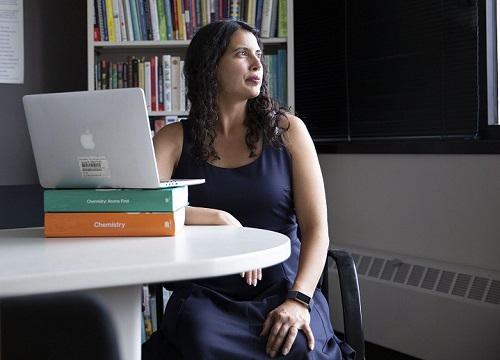 Gov. Jared Polis' recently announced Roadmap for Containing College Costs and Making College Affordable prominently features open educational resources as an exemplar of working toward the state's Colorado Rises master plan for higher education.
And now, the work of the state's OER Council has been recognized even further afield as a recipient of the WICHE Cooperative for Educational Technologies (WCET) 2019 Outstanding Work Awards (WOW Awards).
"I'm pleased the group has been recognized for its work on behalf of Colorado higher-education students," said Emily Ragan, associate professor of chemistry and biochemistry and past chair of the council. "The work blends a vision for a future with more effective and equitable education with support for pragmatic and realistic steps that individual faculty can take related to course learning materials."
One highlight from the council's report on initial OER findings is that $550,000 in grants were awarded to 22 groups, including 15 institution-level grants. This resulted in a projected student savings of up to $3.4 million across almost 24,000 students impacted.
MSU Denver received $60,000 for an institutional grant, which is funding Open Textbook Review workshops, OER faculty learning communities and OER adoption stipends, Ragan said. The next Open Textbook Review workshop will be held in January; interested faculty can sign up here.
The project also has implications for increasing scale, which could ultimately affect all of the 260,000 post-secondary students in Colorado and the 40,000 concurrent-enrollment students, she added.
The WOW Award was presented to the council on Nov. 6 at the WCET's annual conference. According to the organization, the WOW Awards honor colleges, universities and organizations that implement exceptionally creative, technology-based solutions to contemporary challenges in higher education.
More information on the OER Council's work can be found on this WCET blog post co-authored by Ragan.
As next steps, the Colorado OER Council will review the second round of state OER grant applications over the next month and distribute $1 million to support OER adoption, adaption and creation in Colorado during 2020. The council is also preparing for the second statewide OER conference, which will be at Colorado School of Mines on June 5. All interested faculty and staff will be able to attend at no cost.
For more information on MSU Denver's work with OERs, email Ragan.
Topics: Best practices, Student Success
Edit this page