Early Bird
Angela Marquez bids farewell to MSU Denver
The executive director for Inclusion and HSI will join the Community College of Aurora.
December 20, 2019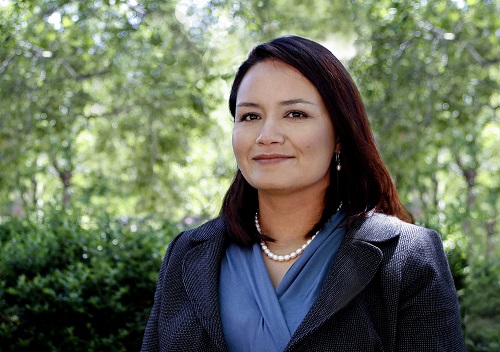 Angela Marquez, Ph.D., has accepted the role of vice president of student affairs at the Community College of Aurora. Marquez announced her departure from Metropolitan State University of Denver in late December after serving the University for six years and helping lead a successful initiative to achieve Hispanic-Serving Institution status.
"Angela's passion for and commitment to diversity and inclusion have left an indelible mark on MSU Denver," said President Janine Davidson, Ph.D. "Her efforts to achieve HSI status and to open doors and opportunities for our students as well as our employees are deeply appreciated. While we are sad to see her go, we are confident she will continue to do great work for Colorado students, and we look forward to more opportunities to partner with CCA."
Marquez has devoted her career to promoting diversity and inclusivity in secondary and postsecondary education. She is a former executive director of the Office of Diversity and Inclusion at the University of Colorado Denver. She joined MSU Denver in 2013 as the associate equal-opportunity director and later was promoted to special assistant to the president for HSI. During her time as a Roadrunner, Marquez co-chaired the President's Advisory Council of Academic Excellence and Student Success and was responsible for leading the 60-member cross-functional HSI implementation team and achieving official federal Hispanic-Serving Institution designation for MSU Denver.
In her new role, Marquez will exercise her experience in compliance, disability services, diversity and inclusion, enrollment and retention to support CCA's diverse student body and inclusion efforts.
"I have truly enjoyed being a Roadrunner. Our commitment to educating the students of Colorado has given me space to lead, to advocate and to identify recommendations on ways to better support diverse populations," Marquez said. "Taking this new position at CCA is bittersweet because I will miss all the wonderful people I have worked with here. But I also look forward to my new role focused on leading in Student Affairs at the Community College of Aurora. Like MSU Denver, CCA is committed to providing access and opportunity to higher education to its very diverse population. Their students do well with us when they transfer, and I think it is because we share the value of putting students first and we both consciously work to improve experiences and outcomes for all students."
Marquez holds bachelor's and master's degrees in psychology as well as a Master of Liberal Studies certificate in adult learning, training and development from Regis University. She earned a doctorate from Colorado State University in education and human-resource studies, with a specialization in higher education and education leadership.
Topics: Arrivals and departures, Diversity, Hispanic Serving Institution, Inclusion
Edit this page