Early Bird
Dreams fulfilled
'Peaceful Warrior' Ramon Del Castillo steps down after 35 years.
December 2, 2019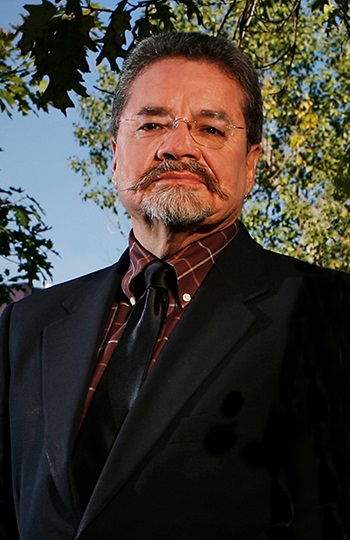 A few weeks before Ramon Del Castillo, Ph.D., steps off the Metropolitan State University of Denver campus after 35 years in higher education, he shared this thought: "I have always felt that the world was my classroom, sharing knowledge and information whenever possible. As a professor here, my visions and dreams were fulfilled. This was the icing on the cake."
As many on the edge of retirement do, Del Castillo, a professor in the Department of Chicana and Chicano Studies, reflects mostly on two items: the University and, of course, the students.
He calls MSU Denver a "wonderful institution" and enjoyed serving as "an ambassador and boundary spanner as it achieved preeminence." And two events that led to that preeminence, in his view, are MSU Denver's role in the passage of the ASSET Bill, which allowed those without lawful status to receive in-state tuition, and the University attaining official status as a Hispanic-Serving Institution.
"In my estimation, this was social justice in action," says Del Castillo, who is also a researcher, columnist for El Semanario, published poet and community activist.
He recalls handing out diplomas, which was poignant, he says, because the entire time he was thinking about the difficult journeys many students endured to reach that day.
It's likely some of those graduates took his classroom lessons to heart because he says he wanted his students to know they had power within themselves to "construct knowledge that could be used to liberate themselves" as they considered roles they'd play in creating a more just world.
He has said he's both a teacher and a student – a lifelong learner – and that teaching has been more of a team effort. Del Castillo sheds light on this teaching philosophy by reading one of his poems on YouTube in his deep, clear voice, "We've reached the top of the mountain. We are here to create music. It must ring loudly and must be heard in places where teachers become students."
Adriana Nieto, associate professor and chair of the Department of Chicana and Chicano Studies, says Del Castillo's presence "served as a reminder that the work our department does is vital to the mission of the University and to our students' success."
Nieto adds that his legacy is that he showed up, asked questions and pointed out inequities. "His whole career has been built on the foundation of his commitment to social justice – that when there is injustice, there can be action to resolve it," she says.
Luis Torres, Ph.D., retired deputy provost at MSU Denver, calls Del Castillo one of the most significant Latino educators in Colorado history and praises his work on HSI, the ASSET and Multicultural Education bills, the Cesar Chavez Peace and Justice Committee of Denver and community activism.
"As chair of the department for 12 years, he led the movement of Chicana and Chicano Studies in new and important directions," Torres says. "He united MSU Denver with the community. He was able to bring people together to advance education and civil rights. He's a role model for peaceful warriors, and his retirement is the passing of the torch to a new generation he has mentored."
After passing that torch, Del Castillo plans to enjoy "some of the things in life we take for granted—spend time with my wife, grandchildren and family."
The Department of Chicana and Chicano Studies is holding a reception Dec. 5 for Del Castillo at Casa Mayan, 1120 9th St., from 4 p.m. to 6 p.m. A community reception is set for Dec. 7 at 6:30 p.m. at the Mile Hi American GI Forum, 1717 Federal Blvd.
Topics: Arrivals and departures
Edit this page