Early Bird
Professor's Room: Steven Krizman
An occasional series that explores the inner sanctums of academia – because clever people have interesting spaces.
December 12, 2019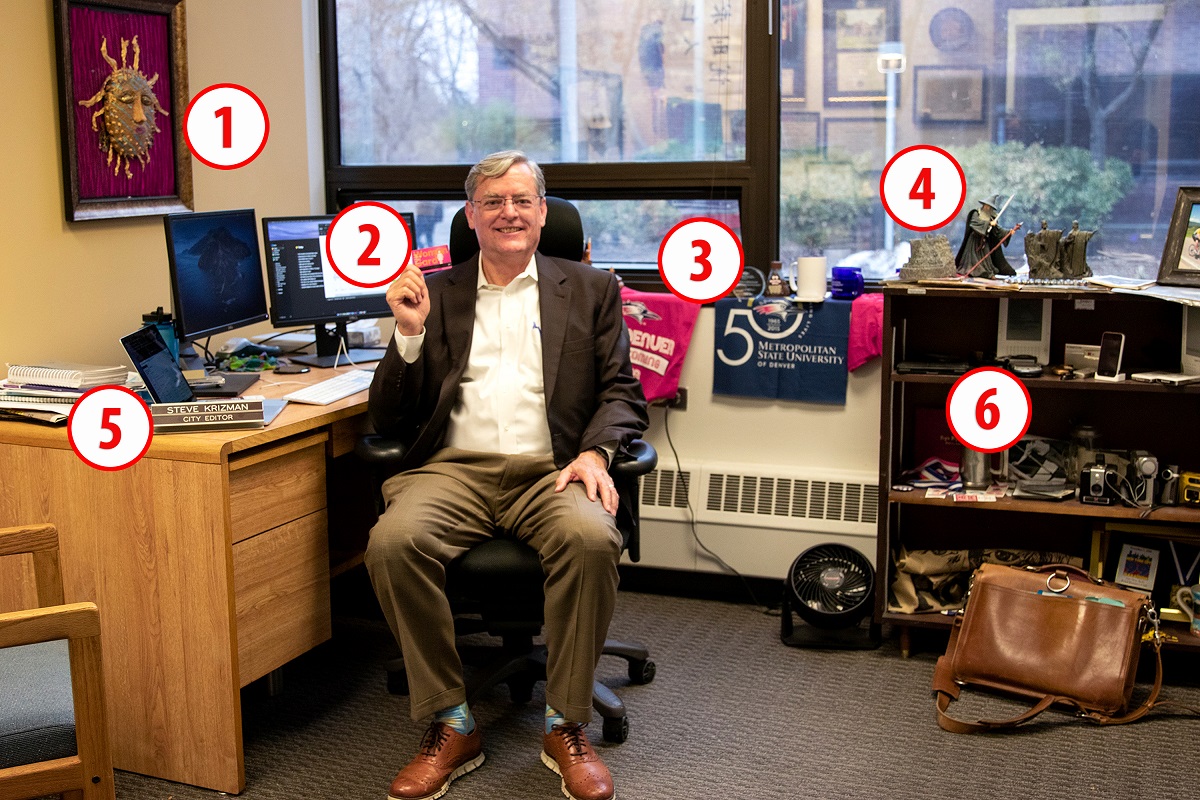 Steve Krizman first discovered his love of teaching at the Rocky Mountain News, where as an editor he often took interns under his wing. The seasoned journalist came to Metropolitan State University of Denver after a guest-lecturer spot in the Journalism Department made him fall in love with MSU Denver's tenacious and driven students.
"My college years were some of the best times of my life. I'm fascinated by what must be going through (my students') minds as they think about their future," Krizman said. "I hope they are having as good a time in college as I did. I hope they remember that there's a light at the end of the tunnel, and it's not necessarily a train coming."
Now an assistant professor of Journalism and Media Production, Krizman has mentored countless students in his various careers, and he's happy he made the transition from journalism and public relations to teaching.
"I love this third career as a professor because I'm able to help people start their careers and build the kind of career I had," Krizman said.
Today, Krizman's office serves as a mini-museum memorializing the different stages of his life and work.
My former boss, Jandel Allen-Davis, M.D., is a Renaissance woman. She's an OB/GYN, a multimedia artist and now CEO of Craig Rehabilitation Hospital. I put the winning bid on this decorated mask she created for the annual Cherry Creek Mask Project fundraiser. She has given me other pieces of art that I keep in my office because each came with a message of wisdom from her.

I am a proud feminist and gladly played the Woman Card from the Hillary Clinton campaign in 2016. I hope to have the opportunity to play it again in 2020.

All the MSU Denver swag and trinkets, stuff we all get at University events – I hate to throw it away. I like to wear my heart on my sleeve, so I find places to display them throughout my office. When they cart me out of here, the collection may crowd me out of my office.

I've read the Lord of the Rings books 13 times and was a fanboy of the movies. Gandalf is my spirit wizard.

The City Editor nameplate is from my first newsroom leadership job at the Longmont Daily Times-Call. I have carried it around to all the other newspapers and corporate jobs I have held since then.

I'm an early adopter of technology. In my museum of anachronistic devices, I have one of the first PDAs (Personal Digital Assistants), The Wizard, and its more famous offspring the Palm Pilot. I also bought the Kindle e-reader when it first came out and now read books on my phone or iPad. The collection includes some of the many Blackberries, iPhones, iPods and digital recorders I have owned.
If your faculty colleagues surround themselves with outrageous objects, alluring artwork or noteworthy knickknacks, please email earlybirdeditor@msudenver.edu with the subject line "Professor's Room" to see them featured (or to nominate yourself).
Topics: Professor's Room
Edit this page