Early Bird
Free sectionals, ottomans, lamps, tables and mattresses
SpringHill Suites is remodeling and offering the items free of charge to faculty, staff and students.
December 12, 2019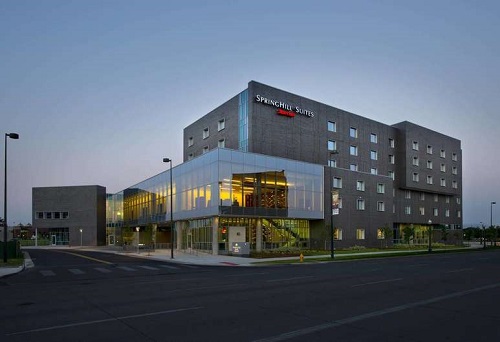 SpringHill Suites Denver Downtown, Metropolitan State University of Denver's on-campus hospitality-education partner, is refreshing and remodeling approximately 30 guest rooms on each floor. To make way for new furnishings, the hotel, at 1190 Auraria Parkway, is once more offering MSU Denver faculty, staff and students used furnishings free of charge.
Items for pickup include sectionals, ottomans, lamps, tables and mattresses of varying sizes. All items are first-come, first-served, and no items will be held, reserved or guaranteed.
Those interested must check in at the hotel front desk Jan. 6 and Jan. 7 from 10 a.m.-4 p.m. to be escorted to the floor where the available items are located. Because of liability issues, hotel staff are not available to help with moving, loading or transporting the furnishings. Roadrunners who plan to pick up mattresses in particular must sign a release form prior to removing the mattress from the property.
This renovation and remodeling project will continue in January, and more free items will likely be available for pickup. Please stay tuned to the Early Bird for more information as it is available.
Topics: Events
Edit this page