Early Bird
1,564 reasons to celebrate
Learn more about the fall graduating class and our inspiring Commencement speakers.
December 12, 2019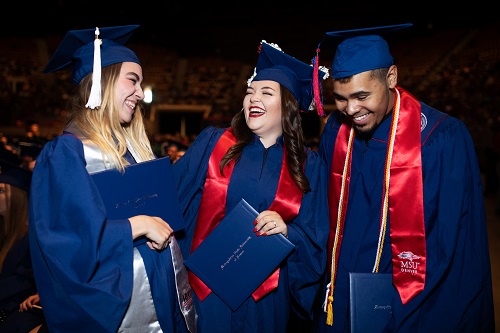 Metropolitan State University of Denver celebrates fall Commencement at the Denver Coliseum tomorrow. Please join us in applauding and supporting the 1,564 outstanding undergraduate students who will be honored at morning and afternoon ceremonies.
The class of fall 2019 is talented, tenacious and reflective of MSU Denver's diverse community. The class includes 586 students of color (led by 348 Latino students) and 24 ASSET graduates. Fifty percent of graduates are first-generation students, 68% are former transfer students, 6% are military veterans, and 57% are women. They range in age from 19-year-old chemistry major Jacqueline Baker to 66-year-old psychology major Joretta Hyatt.
While 38% of students are graduating with STEM-focused degrees – the most popular major being biology – fall graduates' top five majors also include psychology, criminal justice and criminology, accounting and individualized degrees. Additionally, 16 students have earned graduate degrees in health administration, 13 in teaching, nine in accountancy, six in business administration and four in social work. We also celebrate 94 newly licensed teachers.
Among these inspiring and accomplished Roadrunners are Michaela Rael, fall President's Award recipient, and Samuel Berg, fall Provost's Award recipient.
Rael, who will deliver the student address during the afternoon ceremony, graduates with a degree in music education, having achieved a 3.7 GPA. She plans to pursue a full-time position as a music teacher in Denver working with Latino youth and hopes one day to serve in the Department of Education at the state or federal level.
Berg will address the morning ceremony. He graduates with a degree in event and meeting management, having earned a 3.8 GPA. He plans to leverage his experience working in restaurants and hotels into a hospitality-management position where he can put his passion for customer service into action.
Angie Paccione, Ph.D., executive director of the Colorado Department of Higher Education, and Adm. Jim Stavridis, who rose to the rank of four-star admiral before retiring as supreme allied commander of Europe in 2013, also will share their wisdom and experiences with newly minted graduates.
Paccione, who has more than 20 years of experience in secondary and postsecondary education as a teacher, coach and administrator, will deliver the keynote address for the 9:30 a.m. ceremony, which honors College of Business and College of Professional Studies graduates.
In his afternoon keynote to graduates of the College of Letters, Arts and Sciences and the School of Education, Stavridis will reflect on lessons learned throughout his 37-year career in the Navy, which included NATO missions in Afghanistan and Syria, as well as his prolific writing career.
Check out more amazing stories about graduate and legacy Roadrunner Michael Legucha, who first came to campus as a toddler, and Rebecca Hernandez, whose experiences of homelessness and illness led her to a belief in herself and in the power of helping others.
For more information on fall Commencement ceremonies, please visit msudenver.edu/commencement/.
Topics: Access, Alumni, Commencement, Community, Events, Excellence, Student Success
Edit this page