Early Bird
Before you get behind the wheel …
All employees who drive golf carts as part of their work responsibilities are encouraged to take a brief online safety course.
December 11, 2019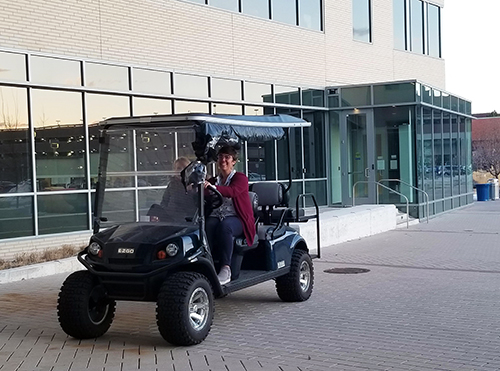 All Metropolitan State University of Denver employees who operate golf carts and service vehicles on campus are strongly encouraged to complete the Auraria Higher Education Center Cart and Service Vehicle Safety Training before Jan. 21.
The online training focuses on driver and pedestrian safety, highlights approved cart routes and takes 30-45 minutes to complete.
"All members of our tri-institutional community deserve a safe campus experience," said Larry Sampler, COO and vice president of administration and finance. "This training will better prepare employees to properly operate carts and service vehicles and help keep our campus accident-free."
To complete the training, Roadrunners must create a new account.
Click "Log In" in the upper right corner.
Click "Create new account" and complete the required fields (using your institutional email address for tracking purposes).
To complete registration, follow email verification instructions and then log in.
To complete the training:
Once logged in, click "AHEC Safety Training."
Select "AHEC Cart and Service Vehicle Safety Training."
Click "Enroll me" and "Enter."
Complete all slides.
All employees who complete the training will receive a completion certificate via email. Completion data will also be recorded by the Facilities Department.
For more information, please contact Emily Sanders, manager of Environmental Health and Safety, AHEC, at 303-556-8397 or safetyoffice@ahec.edu.
Topics: Safety
Edit this page