Early Bird
MSU Denver is hiring Census Outreach Fellows
The student positions pay $18 per hour and focus on campus and community education. Resumes are due by Dec. 18.
December 11, 2019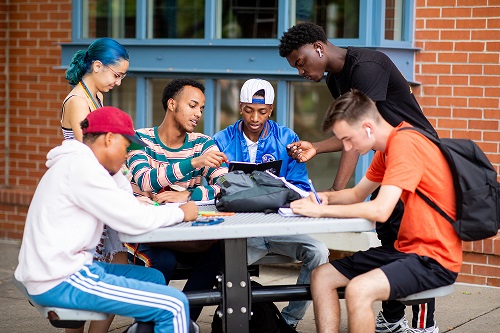 Metropolitan State University of Denver is hiring 15-20 Census Outreach Fellows to educate Roadrunners and community members about the 2020 census and to encourage census completion. All positions (which are funded by a Colorado Department of Local Affairs grant) pay $18 per hour, and training is paid. Fellows should expect to work 15-20 hours per week throughout the spring semester, beginning in early January.
Accurate census results are critical as they help determine each state's representation in Congress as well as how certain federal funds are allocated to schools, hospitals, roads and more, said Michael Benitez Jr., Ph.D., vice president for the Office of Diversity and Inclusion.
"Census Outreach Fellows will gain valuable civic participation experience, and they'll help ensure that our campus and communities are seen, heard, reflected and represented," he added.
This is not a door-to-door effort, and all outreach will be conducted in public spaces. Census Outreach Fellows will focus their efforts on the Auraria Campus and at community and partner organizations such as Denver Health, the Colorado Alliance for Health Equity and Practice, Lutheran Family Services, Montbello 2020, Denver Human Services, Revision and Una Mano, Una Esperanza and more.
The ability to communicate in languages other than English is a plus but not a requirement. However, Fellows hired to communicate census information in other languages must be proficient speakers.
Duties and responsibilities include:
Conducting and/or co-coordinating census information sessions and events
Informing and educating individuals/groups on the importance of census completion
Record-keeping (number of individuals contacted, information given, sign-in sheets collected, event data, etc.)
Collaborating with others and working as part of a team
Providing information in a clear and concise manner
Representing the University and community partners in a professional manner
Traveling to and conducting outreach efforts at partner agencies as needed
To qualify, students must:
Be at least 18 years old
Be enrolled in at least 6 credit hours and available to work at least 15 to 20 hours per week
Attend all training sessions
Comply with position requirements and grant-funding regulations
Have access to a vehicle and a valid driver's license (unless public transportation is readily available)
Be approachable and willing to communicate with strangers
Interested students must submit a resume and letter of interest by Dec. 18 to Angela Marquez, Ph.D., executive director for Inclusion and Hispanic-Serving Institution. Please direct any questions to Marquez as well.
Topics: Civic Inspirations, Community, Hiring, Student Success
Edit this page